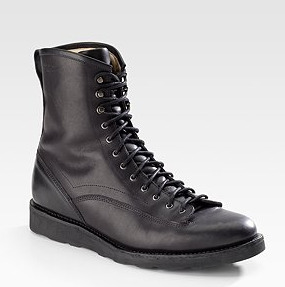 Danner is suing rag & bone over copyright infringement, after the latter created a strikingly similar boot called, wait for it, the "Danner Combat Boot by rag & bone". Now, the Portland-based Danner has been making boots since 1932, so we're pretty sure they've got the advantage when it comes to the name, but we'd also submit that black lace-up combat boots are pretty ubiquitous these days (as in, don't these also look a bit like Doc Martens?).
Who knew the shoe industry could be so fraught with inspirational tension. This latest suit follows disputes made by Alexander McQueen over Steve Madden's "inspired" style, and New Balance's uncanny ability to shut down Vuitton's copycat gray sneaker.
Both rag & bone designers, Marcus Wainwright and David Neville are named as co-defendants in the filings, and Danner is seeking lost profits, legal fees and unspecified damages.