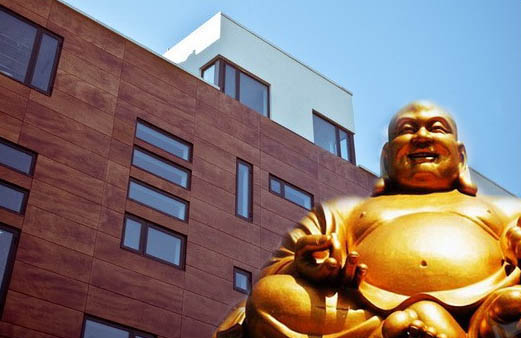 Our good friend Satori, the Robert Scarano-designed building on Bond Street near the Gowanus Canal has gotten a visit from our other buddy, the PriceChopper. Depending on the unit, the Chopstmeister, per Streeteasy, has either applied nice trim and shape or, in a couple of case, shaved those babies bald and waxed 'em up. Given that Satori means "instant enlightment," it may mean that some has come price-wise for space on the Carroll Gardens-Gowanus border. (Leading our tipster to wonder if Carroll Gardens has "lost its mojo.") Let's take Unit A-3B, the top priced 2BR originally listed at $925,000. It's taken a $100,000 hit. On the other hand, the mid-range 1BR Unit C-4B originally out there for $560,000 has only been trimmed to $530,000. It's a little bit more dramatic with the studios, though. One listed at $475K has come down to $399K for its 499 square feet. That one kind of screams, ouch, and not in a very zen way.
· 340 Bond [Streeteasy]
· Gowanus' Satori Now Enlightening Things From the Inside [Curbed]
· Instant Enlightenment in Gowanus Will Come with a Price Tag [Curbed]For more stories from Curbed, go to curbed.com.
Copyright CURBD