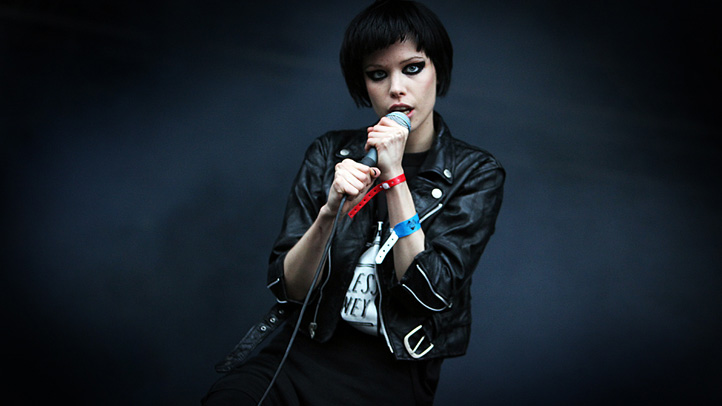 So yesterday, we took a look at some great, organic, down-home style music by way of Allen Toussaint. Today, let's do an abrupt 360 and dive into the glitchy world of Crystal Castles and Health, playing tomorrow night at the Roseland Ballroom.
Crystal Castles (named after a line from a 1980s cartoon) came to prominence in 2004-05 after producer Ethan Kath uploaded a few songs that featured Alice Glass on vocals. (Interestingly, the songs came from a recording that literally happened without Glass's knowledge — she was warming up for a vocal take in the studio, and the engineer recorded her performance without telling her.) The band's spastic, glitchy sound (and their chaotic live shows) began to earn them fan support and critical acclaim (their debut album was included in NME's "Top 100 Greatest Albums of the Decade" list). They released their second self-titled album in 2010, and a third, also-self-titled release, is slated to come out on November 5, 2012. their highest-charting single, "Not in Love," features guest vocals from Robert Smith of The Cure.
Health perfectly compliments Crystal Castles' gonzo blend of electronics, though their atmosphere is more pummeling (if that were possible). Health's manic drumming and more monotone vocals are shimmering, metallic, and occasionally completely atonal, but always riveting. Much of their off-kilter noises come from something called the Zoothorn (which may or may not be a reference to Captain Beefheart's guitarist Zoot Horn Rollo), but that's nearly here nor there. What is here and there is the band's eardrum-shredding blend of tribal drums, white-noise electronics, and detached, oddly comforting vocals. Caution: their video for "WE ARE WATER" is definitely NSFW.
Crystal Castles and HEALTH are playing the Roseland Ballroom (located at 239 West 52nd Street) tomorrow night, October 3, at 8 p.m. Tickets are $45 for the rest of today, and then they jump up to $55 tomorrow, so get on it!