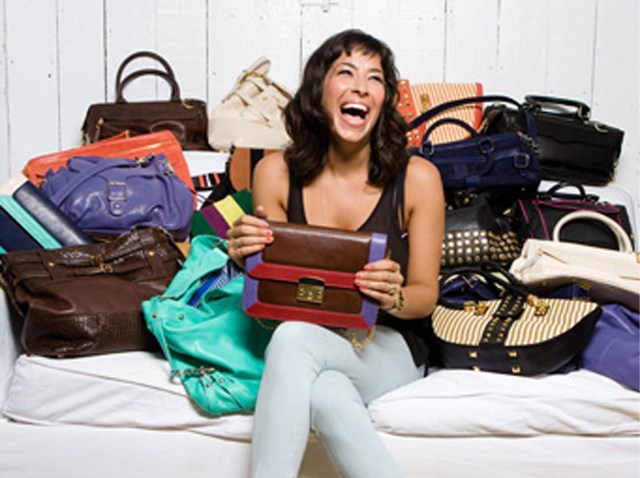 HOBNOB: Tonight at Henri Bendel, nibble on cookies (seriously – the invite says so) as you hang with certifiable fashion genius Rebecca Minkoff and drool over all her new handbag and accessory designs (neon clutches! studded bracelets!). She'll be offering personal style consultations, and if you spend more than $250, gifties kick in. 5-7PM, Henri Bendel, 712 Fifth Avenue; 212-884-3000. 5-7PM. (Also on Saturday 1-5PM.)
RAKE SOLD SEPARATELY: One more good rainstorm, we're thinking, and New York's fall leaves are toast. Once that happens, at least you'll have this golden leaf pendant from Brooklynski to remind you of the city's very best season. Fall leaves on a vintage 13" brass chain, $68 at Brooklynski, 351 Graham Avenue, Greenpoint, Brooklyn; 718-389-0901.
THE MOTHERSHIP HAS LANDED: At this point, Lucky magazine's "Lucky Shops" event requires no introduction – just a friendly reminder from us to wear comfy shoes (for the line) and to remember to hydrate. Because scoring up-to-75%-off deals on merchandise from more than 50 brands (including Charlotte Ronson and Vena Cava) is like the NYC marathon: You need to focus on endurance, not sprinting. Tickets are $35 on Friday and $20 on Saturday; purchase them at luckyshops.com. Through 11/7. Metropolitan Pavilion, 125 West 18th Street; 866-458-2598.
Got a tip? Email us.
Copyright FREEL - NBC Local Media