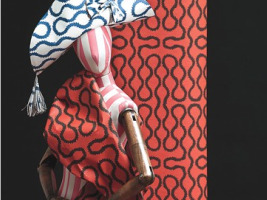 In a move that may well prove that collaborations have officially jumped the shark, Vivienne Westwood is teaming up with British-based firlm Cole & Son on a range of upscale wallpaper.
Granted, we're huge fans of Vivienne Westwood overall, and the idea of extending her quirky aesthetic to housewares isn't exactly unwelcome, but after a year of reporting on collaboration after collaboration, an announcement concerning wallpaper this close to the close of 2009 does seem a little over-the-top.
All that said, we must admit the wallpaper itself looks rather dashing. The designs range from this bright-and-graphic "squiggle" (pictured) to a pretty Cut Out Lace pattern and a cool print that manages to look like crumpled tartan plaid (a Westwood signature). Apparently all the prints were pulled from various collections Westwood has designed over the years, which does lend the whole project some fashion cred.