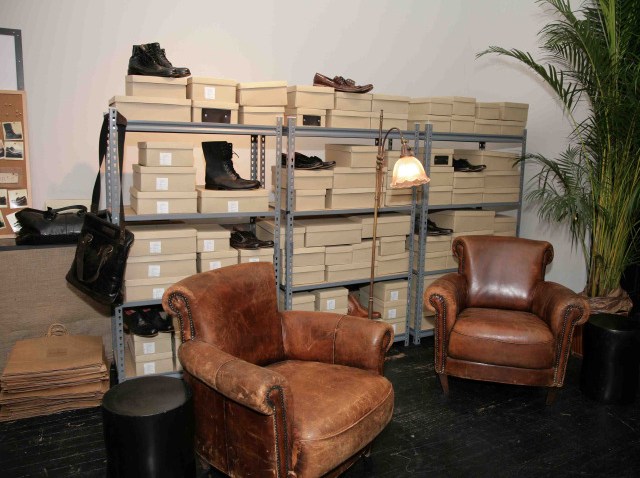 The retro-inspired Cole Haan spin-off Cole, Rood, & Haan revealed a chic, unisex-feeling line for fall at a private loft in Soho, complete with Prohibition-era cocktails, candlelight, and -- of course -- editors trying on some pairs.
The lookbook for the line -- which features 1930s-inspired lace-up work boots, shiny oxfords, and more -- was shot by the Selby, and so the walls of the event were papered with whimsical Selby pictures, drawings, and hand-written interviews with the cool downtown types like the owners of Maryam Nassier Zadeh on the Lower East Side.
We went home with one of the lace-up short boots (perfect for a rough-and-tumble fall season), though we're equally enamored with the purple-toned plain-toe oxford or the other lace-free oxford style. The idea of a somewhat unisex collection (both the women's and men's styles really are quite similar and cohesive) feels so perfect for the current season's menswear-ish looks -- and it was fun, for once, to be trying on shoes right next to the boys.
Cole, Rood & Haan is available at select Cole Haan retail stores, as well as Steven Alan's Soho store.