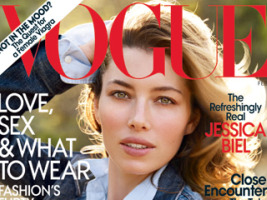 In the issue of Vogue hitting newsstands January 26, Jessica Biel takes a road trip with Jonathan Van Meter, gets photographed by Mario Testino, and overall comes out looking like the world's most underappreciated actress. But the real gem doesn't land in the article -- which focuses more on Biel's down-to-earth nature and charm.
The most glowing recommendation of the peaches-and-cream-complexioned actress is the lavish praise Anna Wintour heaps upon her in her editor's letter. She even goes so far as to say, "I think my Valentine's wish would be that she be embraced by and play a larger role in the fashion world. She symbolizes everything American fashion stands for: health, beauty, fitness, and grace."
What's more, Wintour thinks Biel should hop on the celebrities-teaming-up-with-designers bandwagon. As Wintour puts it: "She'd make a great partner for any designer." Not coincidentally, she's wearing a lot of, ahem, Ralph Lauren -- specifically her all-American denim cover look (a mix of Ralph Lauren Collection and RRL), and later in the editorial, a tribute to Lauren's Depression-inspired Spring 2010 collection in the form of Ralph Lauren overalls. Read: You listening, Mr. Lauren? Needless to say, we'll be watching Biel's Golden Globes gown choice very carefully.