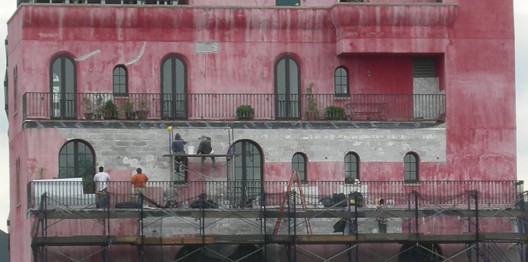 Now is the time for the squeamish to look away. Julian Schnabel's Palazzo Chupi is hurting. Bad. Worse than we initially thought. By the looks of these photos sent in from a tipster on high, the miracle of West 11th Street is going under the knife for some serious touch-ups. Its skin is peeling and it looks like there are some deep gashes over its eyes. It's also screaming out in pain, but in a high-pitched frequency only our ears are attuned to. Permits just posted on the Department of Buildings website mention the scaffold erection and sidewalk shed, but the extent of Chupi's care is unclear. In short and without hyperbole, this is the most pressing matter facing the country today. Chupster, we're pulling for you.
· CHUPI IN CRISIS: Palazzo's Paint Peeling? [Curbed]
· CHUPI IN CRISIS: The State of the Palazzo Address [Curbed]For more stories from Curbed, go to curbed.com.
Copyright CURBD