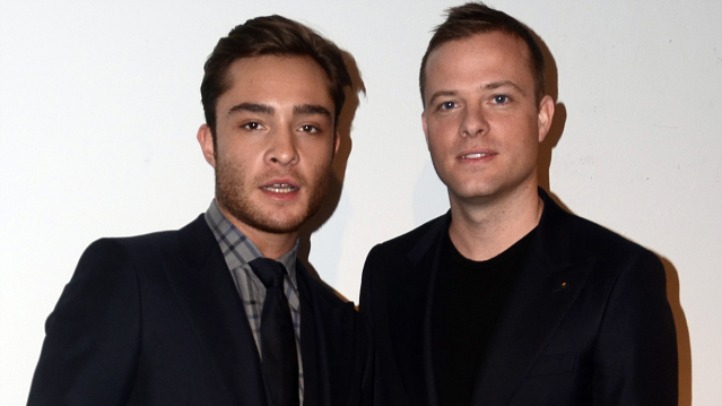 A veteran of brands like Ralph Lauren and Calvin Klein, English-born Simon Spurr struck out on his own in 2006 with an eponymous line of jeans called SPURR. The line was an instant hit at Bergdorf Goodman and soon after expanded into sportswear and suiting. In 2009 'Simon Spurr' became the designer collection, and SPURR was reconfigured to be the contemporary counterpoint. The brand has been racking up the accolades ever since.
Simon Spurr talked with us about his latest CFDA nomination, why young Hollywood is gravitating his way and why he admires Ralph Lauren.
You were nominated for the CFDA Swarovski Award for Menswear last year and this year you are nominated for the Menswear Designer of the Year. What does being nominated mean to you?
Besides being such a huge honor just to be nominated, it means a great deal to be recognized for back-to-back years. There has been such a huge progression in the brand from when we were nominated for the GQ/CFDA Award for Best New Menswear Designers in America [in 2008] to being nominated for the CFDA/Vogue Fashion Award [in 2009] to being nominated for CFDAs. I think it ultimately shows that my peer group is recognizing my progression and voting accordingly, which means a lot.
Do you feel an extra dose of pressure because you have moved into the Menswear Designer of the Year category from the Swarovski category?
The Swarovski awards are obviously reserved for emerging talent. Now I am in the big leagues normally reserved for giants like Ralph Lauren, Calvin Klein and Tom Ford. It's really humbling to be included on that list. At the same time, because of that, I am prepared for the other side, for not winning. The way I look at it the Spurr brand has been around for five years and there will be other opportunities to win. Hopefully I will be around for a long time.
What happened in 2006 that you said, now is the time to strike out on my own?
I was at a crossroads. I was working at Ralph Lauren, I was 31 and I thought to myself, if I am going to do it, I have to do it now. I started with denim and the line grew and evolved from there. I didn't think at that moment that I would get to where I am now. I did want to work for myself and get the freedom that that would provide. Ironically, I am working harder than I ever have, but it's important to me to be my own boss, and to be able to take a day off when I need to, or down the line when I have a family to be able to go to my son's soccer practice.
What did you learn from your experiences working with Ralph Lauren, Hedi Slimane and Calvin Klein that you have incorporated into your own brand?
From Hedi Slimane I learned the importance of bucking the trends. Calvin Klein is a purist when it comes to garments. And from Ralph Lauren I learned how to build a global brand. Some of what he did seemed repetitive to me when I was working there, but now that I am on my own I have a new appreciation for what he does.
How do you begin working on your collection each season?
I always start with fabric. Fabric ends up being 50 percent of the strength of any garment. The success of most brands has to do with making the correct model in the right fabric. I let the collection live and breath by itself. I never have a definitive theme like equestrian that I build a collection off of. I let the collection go where it wants to.
Where do you think men are in terms of style these days -- do you think there is a return on the horizon for the suit?
I think there is definitely a resurgence of men taking more care with the way that they dress. On the back of the economic recession men are being much more thoughtful and inquisitive with what they are buying. Quality is coming back into the marketplace. Made in Italy has an increasing importance. People are buying thinking about longevity and not just style. Disposable fashion is edging its way out in favor of luxury these days.
Why do you think young Hollywood , and stars like Zac Efron and Ed Westwick, are gravitating towards you?
I think it's because they are searching for their own identity outside of the old guard and people like George Clooney. They are emerging actors, and I am an emerging men's brand and it's a perfect pairing. I think my clothes allow them to walk into a room with a personal style that doesn't overshadow their personality.
Do you have aspirations as to where the Simon Spurr brand is going to go?
I think it's difficult to get to the level of a Calvin Klein or a Ralph Lauren today, times have changed. They were the ones who paved the way for what we as designers are all trying to achieve today. I would love to do women's, have a fragrance, but right now I am growing slow and steadily.
What's next on the horizon for the label?
I would love to have a stand-alone retail store. It's so important to create an environment that allows the customer to understand your complete vision. Right now we only have runway shows twice a year that allow for that, and customers don't even get to experience them.