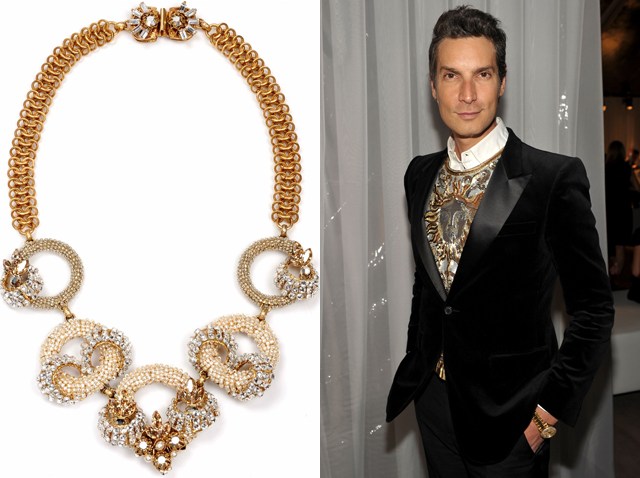 Jewelry house Miriam Haskell, founded in 1926, is one of the oldest surviving American costume jewelers in America. Los Angeles vintage mecca Decades, founded by Cameron Silver in 1997, redefined the vintage market selling everything from Christian Dior Couture to James Galanos to customers that include Hollywood stars and Saudi Arabian royalty. The two are now collaborating on a capsule collection entitled Uptown/Downtown, which will range in price from $250 to $1,500, and will hit stores beginning in October. Miriam Haskell, a favorite of Michelle Obama, has been diving into collaborations as of late including one with J.Crew Bridal last year and one with fashion house Marchesa, which debuted in February. Silver similarly has been expanding his empire. He launched a denim line last year called Decades Denim, and even has a Bravo show in the works. We talked with Silver about what it was like going through Miriam Haskell's extensive archives and his new role as a designer.
Tell us about your collection with Miriam Haskell.
Working with Miriam Haskell, the fact that it is such an old American legacy brand -- it's 85 years old -- made this collaboration particularly exciting for me. I got to work with the archives and to pull elements that were of the Haskell DNA but sex them up a bit. We have two groups: Uptown, which is a gold color-way and Downtown, which is gunmetal -- but everything is identifiable as Haskell, just in a new, fresh way. It's not a vintage collection. It is somewhat vintage-inspired, but it's about modernity, streamlining and of course everything has to be sexy. Everything is articulated and moves. And you can mix Downtown and Uptown, if you are that kind of girl.
What was it like going through the archives?
There is just so much, the Miriam Haskell archives are so rich. This is just one component. I hope we will do many more collaborations. It's the only surviving American costume jeweler. It's one of the few surviving American accessory collections. And it's one of the few surviving American fashion houses -- I mean who else is around from the '20s? Haskell made jewelry for Coco Chanel and Lucille Ball. The archives are just incredible. And everything is still made by hand and made in America.
Who do you envision wearing the collection?
Hopefully all of the women that I know through Decades. I always say that the chicest women I know are Decades ladies, but I think it is extremely accessible. I'm interested in democracy in fashion so somebody young, somebody old, somebody rich, somebody not as rich and women of all sizes.
What piece are you most proud of?
Last week Gabrielle [Fialkoff, COO of Miriam Haskell] and I were in LA showing the collection and all of a sudden I said, "We need a belt!" And the beauty of working with a company that produces in America, in New York, is that I gave them a reference -- a '60s jeweled belt from Kenneth Jay Lane and they were able to do a belt. We were able to use the cobra and I love that the tassel comes off so you can tag it on a bag or your nose. I just love jeweled belts -- you can wear something basic and throw a belt on and transform a basic outfit.
You're getting into designing more and more -- what do you like about it?
I just love it. There is a shoe collaboration that I am working on and a lot of other collaborations are in the works too. I've always done luxury brand consulting, just anonymously as a creative consultant. So this has just been a wonderful new step for me.