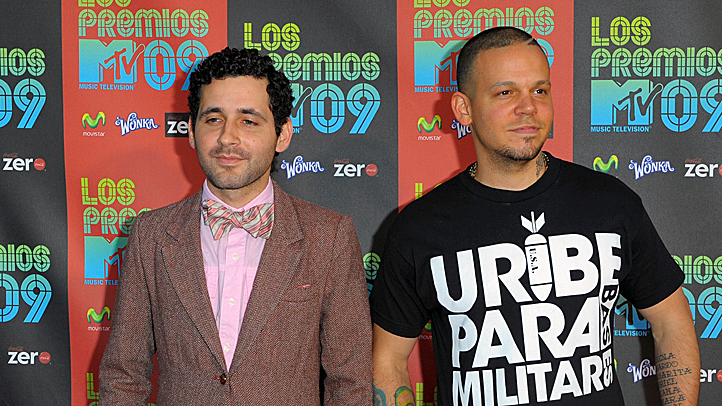 To say that the Puerto Rican rap duo Calle 13 are controversial and outspoken is quite an understatement.

The two stepbrothers, Rene Perez Joglar and Eduardo Jose Cabra Martinez, who go by the pseudonyms Residente and Visitante, respectively, got their start as a band in 2005 when they submitted the track "Querido F.B.I," which translates to "Dear F.B.I", about the death of a leader in the Puerto Rican revolutionary group allegedly during his arrest by the F.B.I.

Needless to say, perhaps out of trepidation, the record label signed them. What has transpired from these two business-savvy, loudmouth hooligans since then has made them one of the most successful artists currently in Latin music.
.
The duo manages to excel in part because of their dynamic. Residente serves as the vocalist and writer while Visitante handles the beats and producing, which works extremely well considering they don't step on each others toes. They do however, cross the lines musically. Initially Calle 13 was pigeonholed as reggaeton mostly because their music was heavy on Spanish rap, but their catalog exemplifies their passion for all types of Latin music from jazz, bossa nova, and salsa, while their most recent tracks feature cumbia, tango and electronica. Residente simply calls it "Urban Style."

What has kept them in the limelight isn't just attributed to their slew of Grammys (they're up for 10 this year, a record for the Latin Recording Academy) but a desire to voice their concerns about the impoverished which has fueled the validity of their music since the beginning.

In a recent trip to Mexico City, while introducing their latest video "Latinoamerica" (also up for a Grammy off of Entren Los Que Quieran), in a debate about the country's out-of-control drug trafficking Residente stated: Every time you educate a child, it's one less who will go on the street and get mixed up in killing someone.

Calle 13 will be at Best Buy Theater, 8pm on Sunday.