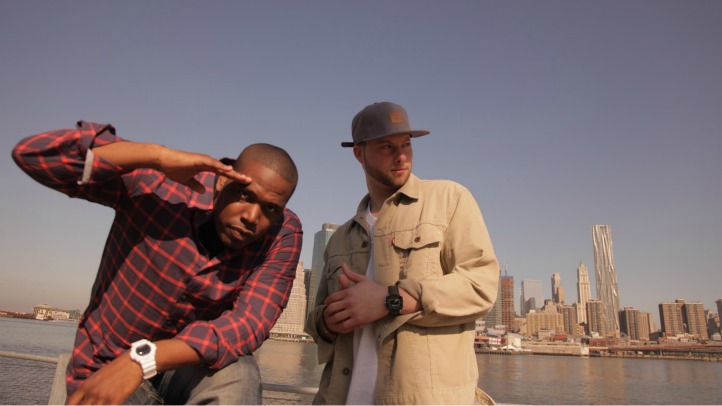 Long Islanders Fresh Vetz are East Coast hip-hop to their core. The duo's aesthetic — rapper Dashah's intricate, wordy flow and DJ Pause's no-frills boom-bap production — hews closely to that of golden-age New York luminaries. They've got the pedigree, too: Dashah himself grew up in the same Wyandanch neighborhood as Rakim and EPMD's Erick Sermon, and has performed and recorded with X-ecutioners project Ill Insanity. The Vetz' two mixtapes, 2009's Vet Status and last year's Veteranz Day, didn't hide from their heritage: it's Wu-influenced, lyrics-first music, bereft of almost all of the signifiers of radio rap.
We've got a stream of the still-unreleased first single, entitled "Move the Crowd," off the Vetz' upcoming debut album Fresh 2 Def, due for an Oct. 4 release. Check it out here:
View more videos at: http://www.nbcnewyork.com.
We also asked Dashah what's on his own rotation. It's heavy on lyrically focused rap, a mix of his own New York idols and contemporaries like New Orleans transplant Jay Electronica (Dashah, born in East Alabama, has southern roots himself).
Check out Dashah's take on his personal favorites.
Diamond District, "Who I Be:" DJ Pause put me on to these dudes; I was sleeping on them at first because I never really heard any hip-hop coming out of the D.C. area. When he gave me the In Da Ruff album, I was sold. We did a CMJ show last year with Oddisee and he killed it live.
Elzhi, "It Ain't Hard to Tell:" I must admit, when I heard Elzhi was doing Elmatic, I was skeptical; Illmatic was a milestone in hip-hop and changed the way emcees put out music. Plus, I have that New York bias. But listening to this one, I was thoroughly impressed.
Ghostface Killah, "In Tha Park (feat. Black Thought)": This is like a 1988 anthem, and it takes you back to that era: no money, no payola, no robotic songs on the radio — just raw, unadulterated hip-hop.
Homeboy Sandman, "The Carpenter": Boy Sand is one of my favorite up-and-coming emcees in the game right now. Dude is incredibly charismatic on the mic, and he absolutely destroys this track.
Jay Electronica, "Exhibit C": This dude is a monster — effortless flow, gigantic words, masterful rhymes. Wow.
Money Making Jam Boys, "Tear It Down": This is another one Pause brought to my attention; I never knew Black Thought had a group other than the Roots. He and the kid STS…the way they're rhyming on this just isn't fair.
Nas, "Nasty": Title really speaks for itself. Nas is one of the nicest to ever do it, and this song is a reminder. His new album is going to be classic.