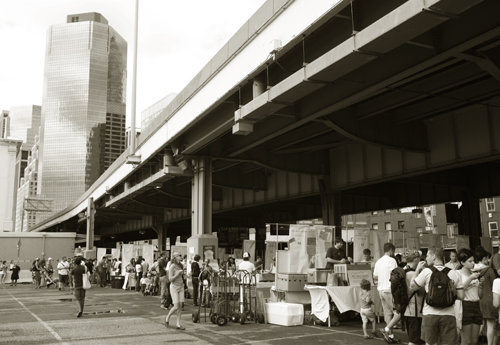 The New Amsterdam Market monthly market in the former location of the Fulton Fish Market is committed to bringing back the idea that urban marketplaces can provide local sources for food. The next monthly market takes place this Sunday, and it promises more action than usual. The October affair, instead of being focused on tomatoes or oysters will emphasize the butchering tradition -- with Tom Mylan and Josh Applestone of Fleisher's tag-teaming a pig in a live demonstration in the shadow of the Brooklyn Bridge.

The city and Fulton Market in particular were home to many men of the knife. When the the market opened in 1822, 88 butchers sat alongside the more familiar fish mongers, according to the The New Amsterdam Public Market Association, and the city once had 13 markets in total supporting some 300 butchers. Now most folks go to Gansevoort for cute shoes or a mimosa.

Repping for the new school of butchering, besides Mylan and Applestone, will be Dickinson's Farmstand Meats, which recently opened full-time in Chelsea Market, and Fleisher's Grassfed and Organic Meats. The pig cutting demo will close the market, and, while there are tickets on sale if you want to sit within blood spray distance (proceeds go to support the market), the demonstration is open to the public.

If beer is more your speed than blood, Justin Philips of the Beer Table will be on hand to lead a tasting of three cask-conditioned ales. The $25 ticket again goes to sustaining the market.

And parking is not a problem at the market, well if you are on a bike it's not. Bowery Lane Bicycles, which handcrafts bikes in New York City, is providing valet bicycle parking for the day.
The New Amsterdam Market
Sunday, Oct 25, 11 a.m. - 4 p.m.
South St. (Beekman St. and Peck Slip)

Copyright FREEL - NBC Local Media