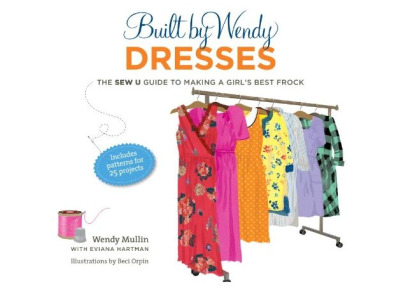 Crafty chic hipsters, this one's for you, mark the date February 9, 2010. That's when "Built by Wendy: the Sew-U Guide to Making a Girl's Best Frock" hits bookstores, complete with three patterns right from the BBW line.
It's not everyday that a coveted designer gives up the trade secrets, so Wendy Mullin's generous guide to dressmaking, including tons of silhouettes from her own collections, is a particularly generous gesture, and crackerjack DIY guide. The chipper tome starts with the basics, from assessing one's body type and learning to choose favorite fabrics, to determining size, reading patterns and of course, mastering zippers and pockets. Then, it's bombs away with crystal clear patters for the simple sheath in GI Jane, flirty sundress and sexy bohemian variations, the classic shift in gamine minis and easy-breezy tunics, and the universally flattering Dirndl dress. She's even got a chapter in there on recycling what you've already got into killer, street-worthy frocks.
Plus, each category of dress comes with a corresponding pattern tucked into the back from the Built by Wendy workshop. So, if your resolution in 2010 was to amp up those domestic goddess skills of yours (minus any frump), get sewing. The book is available for pre-order here.