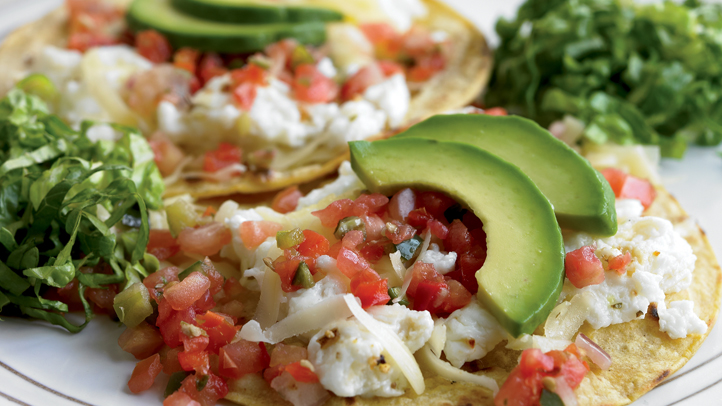 Jessica Delfs of Season 10 of "The Biggest Loser" says, "I always thought that tortillas were made simply from corn, water, and salt. So imagine my surprise when I realized that all of the packaged tortillas at my local grocery store contained a laundry list of artificial ingredients. Be sure to read the labels when buying tortillas, and choose the most natural ones you can find.
"While this dish may seem a little higher in fat than some of the others in this book, much of the fat content comes from the addition of heart-healthy avocado. You can reduce the amount of avocado or omit it, if you are trying to cut down on the fat in your diet."

Ingredients
Olive oil spray (propellant free)
4 large egg whites
1/4–1/2 teaspoon all-natural salt-free Mexican or Southwest seasoning (I used Mrs. Dash Southwest Chipotle)
2 (about 6") preservative-free yellow corn tortillas
1/2 ounce (5 tablespoons) finely shredded, all-natural, low-fat Cheddar (I used Cabot 75% Reduced Fat Cheddar)
2 tablespoons well-drained pico de gallo or fresh salsa
1/2 cup finely shredded romaine lettuce leaves
1/6 avocado, pit removed and sliced thin
All-natural hot sauce, to taste (I used Cholula), optional

Directions
Lightly mist a small microwave-safe bowl with spray. Add the egg whites and seasoning and microwave for 30 seconds on high. Continue microwaving in 30-second intervals until the eggs are just a bit runny on top. Then, using a fork, stir them to break into large "scrambled" pieces. By the time you scramble and stir them, the residual heat should have cooked away the runniness. If they are still undercooked, cook them in 10-second intervals until just done. Leave the bowl in the microwave until you're ready to plate the dish.

Place a small nonstick skillet over medium-high heat. When hot, add the tortillas, one at a time. When they're warm on one side, flip them. When both sides are warm, transfer each to a large serving plate. Divide the scrambled egg whites evenly over the center one-third of each tortilla. Top the eggs with the cheese, followed by the pico de gallo. Top each taco evenly with the lettuce and avocado slices. Serve immediately with hot sauce, if desired.

Makes 1 serving

Per serving: 253 calories, 22 g protein, 26 g carbohydrates (1 g sugar), 8 g fat, 1 g saturated fat, 5 mg cholesterol, 5 g fiber, 353 mg sodium
---
Reprinted from: The Biggest Loser Flavors of the World Cookbook by Devin Alexander (c) 2011 by Universal Studios Licensing LLLP. The Biggest Loser (TM ) and NBC Studios, Inc., and Reveille LLC. Permission granted by Rodale, Inc., Emmaus, PA 18098. Available wherever books are sold.