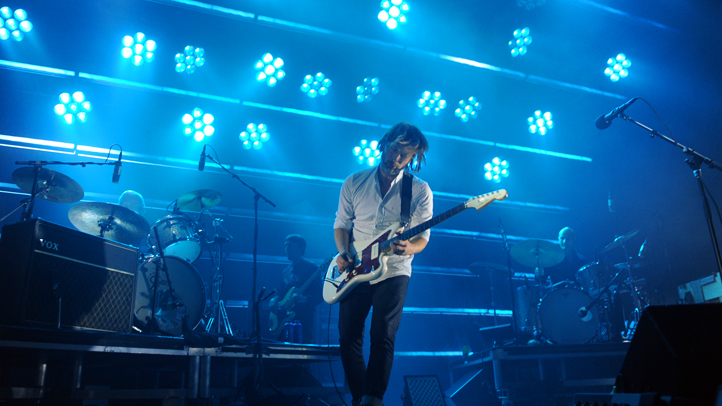 In today's dog-bites-man news, Phish will headline the 2012 Bonnaroo Music and Arts Festival, which will take place on June 7 through June 10 in Manchester, Tenn.
The Vermont jam kings will be joined in headlinerdom by Radiohead, Red Hot Chili Peppers, Bon Iver and the reunited Beach Boys.
Bonnaroo always has one of the most diverse lineups in the festival game, from jazz to hip-hop, metal to dance music, and this year's is no exception.
Several of New York's finest are on the bill, including St. Vincent, Das Racist, The Roots, The Antlers and Battles.
Also playing this year are Feist, the reunited Ben Folds Five, The Major Lazer, The Joy Formidable, Kathleen Edwards, Mogwai, EMA, punk legend The Bad Brains, Yelawolf, Kendrick Lamar, Childish Gambino, The Civil Wars, and something called "SuperJam," which is usually Questlove and whoever fells like playing with him.
Classic rock fans should make sure to check out Spectrum Road, which features Cream's Jack Bruce as well as Cindy Blackman, John Medeski and Vernon Reid.
Interestingly enough, Foster the People, comedian Aziz Ansari and Skrillex are all on the third line of the poster, while rock legend Alice Cooper gets the fourth line, even though he wrote "School's Out." Odd.
Should you be interested in hearing any of these people before you head out, the festival organizers have helpfully put together a Spotify playlist that you can check out here.
There will also be a comedy tent, a movie festival, the always-odd silent disco, internet cafes and better food and beer than you would expect from a music festival. Also, the festival's organizers will soon launch Bonnaroo365, a partnership with YouTube that will feature original programming and live performances.

Tickets go on sale on this Saturday at noon at Bonnaroo.com.