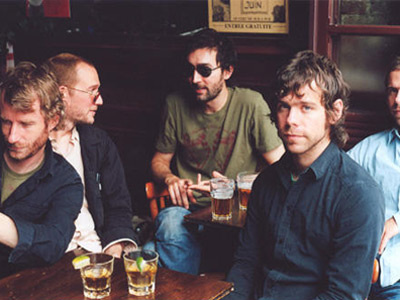 In one of the more odd pairings in recent memory, members of The National and Grateful Dead icon Bob Weir will play "The Bridge Session" webcast together on March 24. You can watch it here.
The set will take place at Weir's TRI studios and is expected to split songs from the Dead and The National playbook, as well as election-year-appropriate covers. There will also be panel discussions about the First Amendment featuring poet/Dead lyricist John Perry Barlow and Gavin Newsom, lieutenant governor of California, as well as a few other special guests.
This session is sponsored by the nonpartisan voter registration group HeadCount, which has spent the last decade working with artists and music festivals to get fans excited and informed about local and national elections.
HeadCount is offering a couple of unique ways to get off the computer and enjoy The National/Weir pairing. First off, there will be a viewing party at the Gowanus bar Littlefield. Tickets are $5 and all proceeds benefit HeadCount.
The organization is also auctioning off tickets to the San Francisco taping. Bid here if you're feeling generous. If you're feeling cheap but lucky, HeadCount is also randomly giving away a free pair of tickets away through its Facebook page.