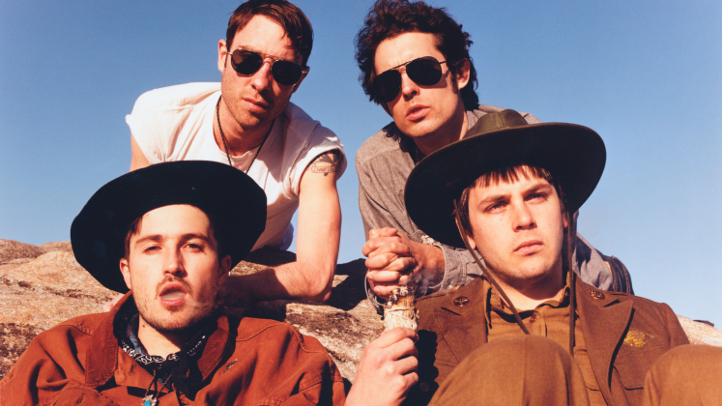 More than two years have elapsed since the Black Lips last album 200 Million Thousand hit stores, and for a band whose work ethic and output production rival some of the hardest working bands in show business, a layoff like this may prompt someone to ask if the Black Lips have been on hiatus.
The answer is an emphatic no. The Black Lips have spent the past couple years touring the world, including a headlining slot on a 72-hour party at sea that was the inaugural Bruise Cruise in February of 2011.
The irreverent punk rock outfit from Atlanta, Ga. also took some time to record their forthcoming album Arabia Mountain that is due out June 7 courtesy of their longtime home Vice Records.
The Mark Ronson-produced album features 16 blistering tracks of the vintage Black Lips straight-from-the-garage sound along with a few nods to greats like the Rolling Stones on the track "Dumpster Dive" and The Ramones on "Raw Meat."
Today Pitchfork premiered the track "New Direction" off Arabian Mountain and you can listen to it here.
Black Lips have announced a new world tour that kicked off in Paris, France last night and includes shows all over Europe through early June before returning stateside for a two-part tour that puts them on the West Coast in June and the East Coast in late July. The eastern leg of the tour includes a July 29 show at the Bowery Ballroom and a July 30 show at Maxwell's in Hoboken, N.J.
Tickets for the Bowery Ballroom show go on sale May 20 at noon via Ticketmaster while ticketing information for the Maxwell's show has yet to be announced.
After spending some time with Arabian Mountain, it's easy to say that any lover of sunshine, punk rock and good times will spend a large portion of their summer with the windows down, sunglasses on and the odometer set to cursing speed. If you need proof, just check out the video for "Go Out and Get It" another track from the new record. The video was shot while the boys were on the Bruise Cruise earlier this year.