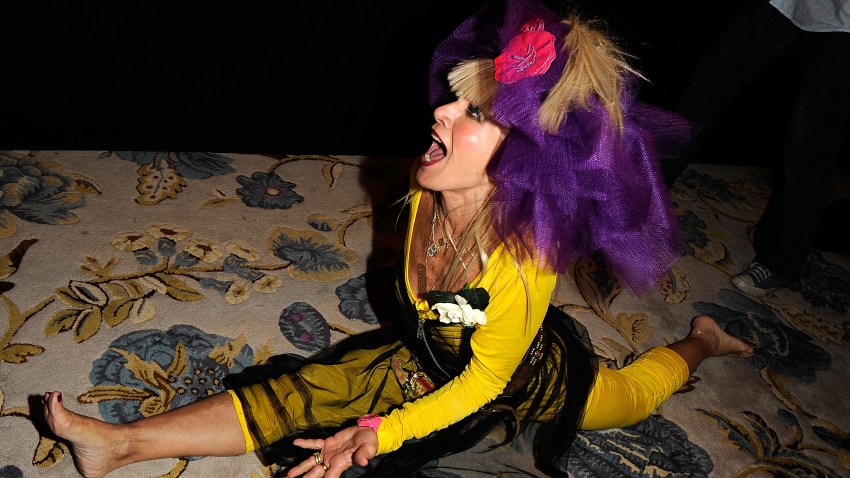 It turns out that Betsey Johnson chose The Plaza as the location for her Spring 2010 show for a reason: after Fashion Week blows through town, she is going to begin designing a two-bedroom suite devoted to the lovable six-year-old Eloise, who terrorized the historic hotel in "Eloise at The Plaza."
It seems the sixty-year-old fashion maven shares more with the rambunctious child than an unruly blonde bob. Like your crazy aunt, she arrived at her show wearing a purple-netted head piece with a fuchsia flower stuck in the middle and entertained the crowd with terrorizing summersaults.
An Eloise suite is a kind of victory for the Plaza, despite being bound to feature pink and black, and to be festooned with all manner lace (come to think of it, they wouldn't even have to tell Johnson the room is intended for Eloise). Just five years ago the 100-year-old New York landmark narrowly escaped being turned exclusively into condominiums when it was purchased by Israeli billionaire and developer Isaac Tshuva of El-Ad properties. Plans also included closing the Oak Room and the Palm Court (where Johnson held her show). But it was when he threatened to fire the entire hotel staff (some workers had been there for 30 years), that the out-of-towners learned of the power New York sentimentality. The union, with the help of celebrities like Sarah Jessica Parker and Liza Minnelli, formed a "Save the Plaza" campaign and got Mayor Bloomberg to help out. Ultimately, the firm agreed to leave the historic ballroom and Oak Room alone and turn only 181 of the 463 rooms into residences.
Copyright FREEL - NBC Local Media