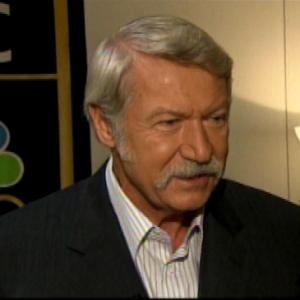 He's the face and wild voice of gymnastics in the U.S. — Romanian immigrant Bela Karolyi. He coached Nadia Comaneci and Marry Lou Retton to gold, and who could forget the image of him carrying injured Kerri Strug after her golden vault?
But Bela in Beijing? Not too happy – and not afraid to share his feelings!
"This is, this is absolutely insane," he told Access Hollywood's Shaun Robinson, after the women's uneven bars competition on Monday, which saw Nastia Liukin, a gold medalist in the all-around, and China's He Kexin earn identical high scores – and left Nastia with the silver medal.
[ Access Extended: U.S. Gymnast Nastia Liukin Wins Gold - Play it Now ]
An obscure tie-breaking rule was used to decide the winner of the women's uneven bars: the four deduction scores were the deciding factor, but the biggest deduction penalty was dropped, leaving just three judge's marks to go on.
"And on these three scores, the Chinese lady was a few hundredths of a point higher than Nastia Liukin," Bela told Shaun. "Those were two young athletes perfectly deserving of the gold medal, and suddenly, I'm looking out in the score board, and then it's different!"
According to the Associated Press, in the event of a tie, gymnastics used to give out duplicate medals until a tiebreak system was implemented after the 1996 Atlanta Games.
[ All Access: 2008 Beijing Olympics ]

The coach blamed the second-place finish on a biased judge.

"The controversy boiled down on one judge, an Australian judge, who really went [biased] in the favor of the Chinese," Bela said.

Related Content from AccessHollywood.com:
2008 Beijing Olympics: Women's Gymnastics - Check Out the Photos
Access Extended: Bela Karolyi Talks Gymnastics - Play it Now
Access The Day Before The Beijing Olympics Begin - Check Out the Photos

Copyright NBCAH - Access Hollywood