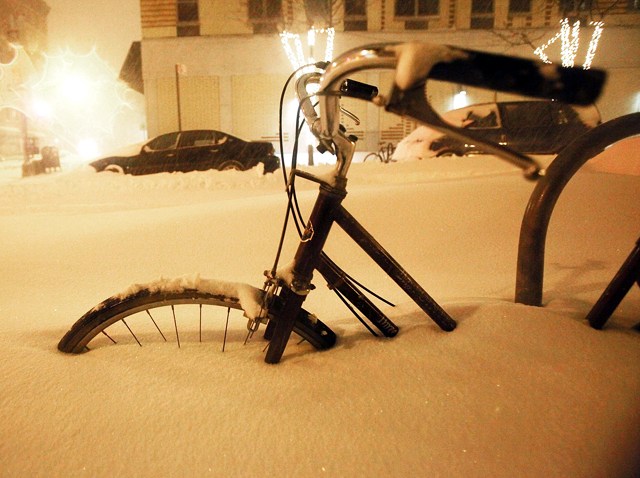 It is time people across the five boroughs and beyond realize that Mother Nature has it out for us. She has been merciless this winter and we yet to cross over into February. Not only do we have to suffer through a soggy commute and impossibility of hailing a cab, but we have to endure the millions of Tweets and Facebook updates about how our friends are, "So over the snow". Ok, so this all sounds spoiled, but we do live in the greatest city in the world and Mother Nature is forcing us into our cramped apartments with fewer delivery options then ever! Yes, it's a travesty, but if you are stuck like most of us, here are a few tracks to help you get through the day.
Black Angels, "Young Men Dead" – This is for that first instance where you realize the weather is complete rubbish and you want to start laying waste to your neighbors. Skip that because no one wants to go to Rikers and watch this fan video with the Black Angels track over No Country for Old Men clips.
Summer Fiction, "Chandeliers" – Now that those bad thoughts have been dealt with, let's change the mood with some chamber pop from a promising young indie band out of Philadelphia led by Bill Ricchini. Bonus points for another entertaining video.
The Glands, "Livin Was Easy" – This is the jam to end all jams so maybe it should be at the end of the list, but I just couldn't wait that long. This is Athens at its finest and I wish they were still playing live. Sorry for the Myspace link, but it's the one place I could find the song.
J.D. McPherson, "North Side Gal" – This one is for all you folks stuck at home alone. The Oklahoma native's pining is something we've all lived through and it gets tougher when you're stuck indoors. I'm crazy about this track and can't wait for J.D.'s Delta Blues sound to make its way to the Northeast.
The Wellington Papers, "Berlin" – Here's a funky jam from a bunch of NYC cats who are starting to get some attention. Check out the video – we've all been in a number of these situations. If you can't get outside today, relieve your taxi cab mishaps or triumphs with this one.
Matisyahu, "Miracle" – Last night I braved the storm to see Cloud Runner (Matis and friends) at Mercury Lounge, and the walk home reminded me of this holiday jam complete with snow and Santa. I love this song and if there is anything New Yorkers could use right now, it would be a miracle.
Rolling Stones, any track from Goats Head Soup – Yup, I'm ending on a high note here. This album is perfect for lying around your apartment in your underwear and wasting a day. Do yourself a favor and purchase the record and enjoy.
Let us know what you're spinning today!