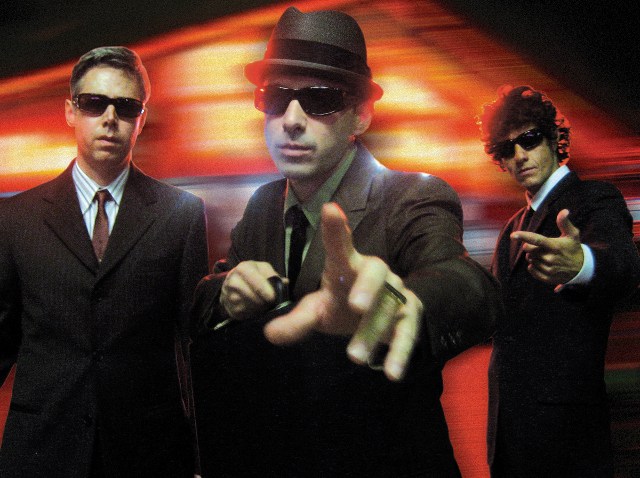 The prodigal sons of New York party hip hop are returning in the spring of 2011 when the Beastie Boys plan to finally release Hot Sauce Committee Part 2 on Capitol Records. This marks the group's first full length since their 2007 release The Mix-Up that won a Grammy in the "Best Pop Instrumental Album".
The Beastie Boys had set a 2009 release date for the Hot Sauce Committee Part 1, but all band business came to a halt when Adam Yauch, better known as MCA, announced he had been diagnosed with cancer. The band canceled gigs and put their focus on the recovery of MCA until just last week when they announced that the previously finished Part 1 would now be delayed, but Part 2 is still on schedule for its original release date of spring 2011.
The new track listing for Part 2 will include 16 songs that were originally scheduled to appear on Part 1. If this all sounds a bit puzzling, that's because it is -- but let's allow MCA to explain it further:
"I know it's weird and confusing, but at least we can say unequivocally that Hot Sauce Committee Part 2 is coming out on time, which is more than I can say about Part 1, and really is all that matters in the end. We just kept working and working on various sequences for part 2, and after a year and half of spending days on end in the sequencing room trying out every possible combination, it finally became clear that this was the only way to make it work. Strange but true, the final sequence for Hot Sauce Committee Part 2 works best with all its songs replaced by the 16 tracks we originally had lined up in pretty much the same order we had them in for Hot Sauce Committee Part 1. So we've come full circle."
The Beastie Boys appear to be over thinking the sequencing of the record, but their body of work proves they know what they are doing no matter how perplexing this creative process has been. Below is the track listing for Hot Sauce Committee Part 2:
1. Tadlock's Glasses
2. B-Boys In The Cut
3. Make Some Noise
4. Nonstop Disco Powerpack
5. OK
6. Too Many Rappers (featuring NAS)
7. Say It
8. The Bill Harper Collection
9. Don't Play No Game That I Can't Win (featuring Santigold)
10. Long Burn The Fire
11. Funky Donkey
12. Lee Majors Come Again
13. Multilateral Nuclear Disarmament
14. Pop Your Balloon
15. Crazy Ass Shit
16. Here's A Little Something For Ya
The Beastie Boys plan to announce the exact release date for the album along with tour dates as soon as they are available. Let's just hope those announcements are less confusing than today's news.