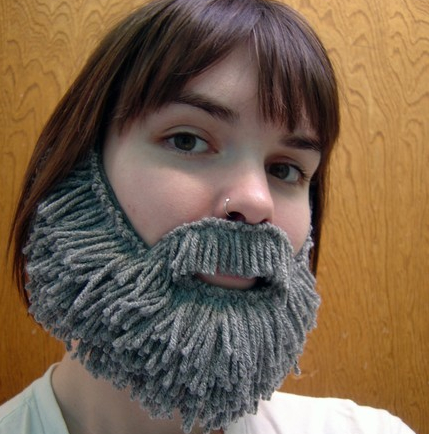 It's quite possible that beards are getting a little too much positive reinforcement these days.
The men of Bearduary, who grow their beards for the first two months of the year, have a valid point -- what with the sub-zero windchill sweeping the City these days, who hasn't wished, at least briefly, that they were covered in fur -- but now a second organization has sprung up like so much itchy stubble: Build-A-Beard.
Forget for a minute the somewhat baffling verb choice, the real surprising thing about Build-A-Beard is that it was started -- gasp -- by a woman (and no, she doesn't have a beard).

Kristine Weise may be suffering from beard envy, but she does appreciate good growth when she sees it. And now, in her admirable pursuit of recognizing and celebrating what men grow because they can't grow a child, Ms.Weise has partnered with Alex Aizenberg -- who calls himself a "corporate beardo"-- to chanel the powers of social media, throw a party and help women in all five boroughs get home safely.

Thursday, Build-A-Beard is hosting its first-ever Beard Ball, that, in addition to giving men the opportunity to proudly scratch their chins, will benefit Right Rides, a Brooklyn-based nonprofit that, in keeping with the gentlemanly pathos of escorting ladies home, gives free late-night rides to women who have inadvertently found themselves in less-than-desirable circumstances.

Now in its fifth year, Right Rides has seen 2,400 riders safely home. "Every man -- bearded or not -- needs to be aware of the problems facing women and LGBTQ in our community, and stand up together against abuse and discrimination by supporting those that are working so hard to fix it," said Aizenberg.

Prohibition Distillery and Firefly vodka will be pouring discounted specialty cocktails and local bearded bands will be performing throughout the night. And ladies similarily afflicted with beard envy, don't be left out -- get yourself a fine beard made of yarn from I Made You a Beard at (where else?) Etsy.

Matchless
557 Manhattan Avenue
Greenpoint, Brooklyn
Tickets are $5. Get them here.
Copyright FREEL - NBC Local Media