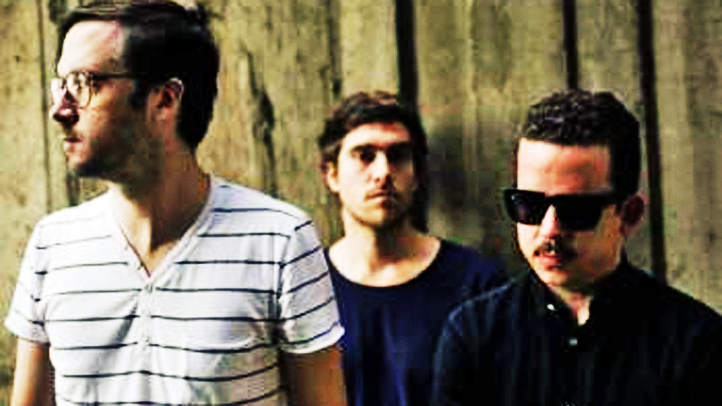 After years of quietly making passed-around tapes of experimental, glistening pop, Brooklyn's Bear in Heaven hit pay dirt with 2009's Beast Rest Forth Mouth, which beguiled bloggers and earned them enough buzz to sign to a bigger label and tour our nation's finest dive bars and dance music clubs.
And as soon as they were finished taking Mouth around the country, the band got right back to work.
"We approached it full speed ahead. There wasn't a moment of downtime between the tour and recording," says guitarist Adam Wills. "We got home from touring Beast and the next day had a studio set up to demo the songs. Months later we recorded those demos."
Bear in Heaven will release their new album I Love You, It's Cool on April 3 via Dead Oceans, in conjunction with Hometapes, who they've prevously been working with. It feels more outgoing and nightclub-ready than Beast, but still finds the band struggling to reconcile the desire to move hips and the need to connect deeper.
"It's a constant battle -- the songs steer themselves sometimes. We set out to make a 'dance' record," Wills says. "I think we made a 'dense' record instead. But whether or not you're driven to dance is one thing, as long as they move you. I think that's what counts."
I Love You's odd name came from a note left by a former bandmate after a late night of debauchery. "It hit at the right time. It was right in the thick of going nuts over writing songs, feeling confused by what we were doing and by the chances we were taking," Wills says."That little inside joke became a little mantra which, in turn, just summed up everything about what was going on with us making the record."
Bear in Heaven will play the Bowery Ballroom on May 8 and the Music Hall of Williamsburg on May 9. Below, we have the video for "The Reflection of You," which was made with PFFR -- the weirdos behind "Wonder Showzen" and "Xavier : Renegade Angel." Singer/guitarist/keyboardist Jon Philpot has known and worked with the PFFR gentlemen for many years.
"We've been bugging them to make something for us for years," Wills says. "They finally decided we were cool enough."