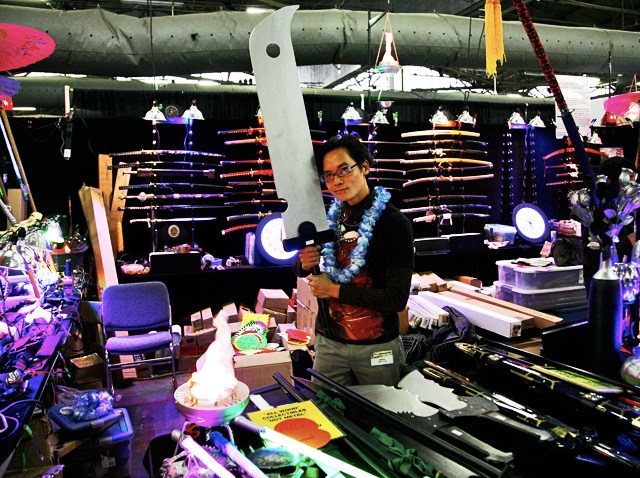 A three-day love-in devoted to pop culture opened Friday with William Shatner unveiling his new comic book and fans geeking out on the latest video games, toys and electronics.
It was all fantasy and fun at the Big Apple Comic-Con, which runs through Sunday with appearances by sci-fi and B-list stars, as well as big names in sports.
"New York is the world mecca of comic books, and this show is a blockbuster,'' said Vincent Zurzolo, whose New York-based Metropolis Collectibles Inc. is a premier dealer in vintage comic books.
On Friday, as the show opened on a Hudson River pier, he presided over gems like Amazing Fantasy No. 15, published by Marvel Comics in 1962, with Spiderman making his debut. The price: $115,000.
Linda Hamilton, star of the "Terminator" series, showed up to sign autographs for a bunch of crazed geeks at the convention at Pier 94 yesterday, reports the Daily News.

"It's all about the connection, man. I can't keep my hands off these people," Hamilton told the paper. "It's always great for fans to meet actors and for the actors to meet the fans."

Celebrities invited during the weekend to the 175,000-square-foot space included Shatner, the one-time "Star Trek'' actor who remains an icon of pop culture.

His newest comic book is the fourth in a series he developed based on "TekWar,'' his science fiction novels, set in the 22nd century when "tek'' is an illegal, addictive, mind-altering digital drug.

"It's not your grandfather's comic book anymore,'' Shatner said. "It's filled with lust and licentiousness, it's filled with sexual innuendo -- absolutely! It's a mature thing.''

During the weekend, fans of "Batman,'' "The Incredible Hulk'' and the "Dukes of Hazzard'' can meet stars of the old TV shows: Adam West, Lou Ferrigno, John Schneider and Tom Wopat.

And sports aficionados awaited Dwight Gooden, Yogi Berra and Pete Rose.

"With this, we bring the comic-book world to life,'' said Gareb Shamus, CEO of Wizard Entertainment, which organized the New York show along with Comic-Cons in Philadelphia, Chicago, Los Angeles and Toronto.

He started selling comics as a 12-year-old growing up in Nanuet, N.Y., a town 25 miles north of New York City.

"That was my first job -- and I'm still doing it,'' said the 40-year-old father of two children, ages 9 and 11.

He plays with them, tapping their opinion about "what's the latest and greatest on the market,'' said Shamus, who publishes the FunFare toy-industry magazine. "My role is to identify what's hot before everyone else does.''

More than 500 exhibitors displayed everything from a fully functioning "Batmobile'' to the current dozen "hottest toys,'' chosen by FunFare.

As fans lined up to have comic books signed by their artistic creators, families streamed into the show.

"We don't want children to be exposed to an adults-only environment, with sex and violence,'' said Shamus, standing by a table where real-looking weapons -- synthetic air pistols, machine-guns and a sniper rifle -- were sold to anyone over 18 for as little $45.

On Friday, Shamus and two business partners launched GeekChicDaily, a free online newsletter and Web site aimed at pop culture enthusiasts looking for new video games, technology and applications.

"It's cool to be a geek now,'' Shamus said.

As part of the show, panel discussions were scheduled on topics such as "Star Trek'' and reality shows.

With tickets to the Manhattan event selling at $25 each, organizers expect at least 30,000 people -- some dressed in costumes representing their favorite comic book, movie or TV characters.

Outfits will be judged on Saturday evening during a party open to the public.

In short, Shamus said, Comic-Con "is like Toys R Us on steroids.''
Copyright AP - Associated Press