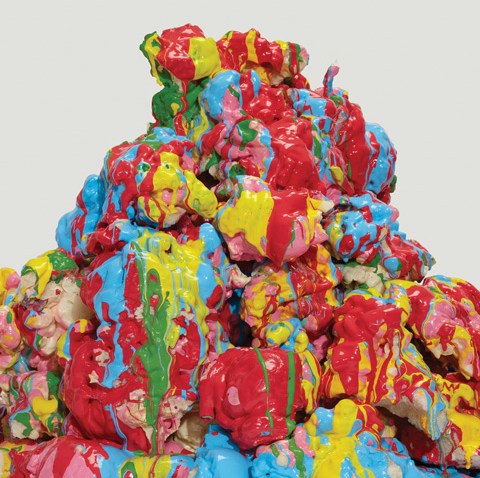 We don't always know what Battles is trying to say, but we do know the experimental New York trio loves to collaborate.
Last year, the band recruited guest singers Gary Numan, Yamantaka Eye, Kazu Makino and Matias Aguayo to sing on the weirdly strutting Gloss Drop. Now they've gathered together an even more wide-ranging crew of forward thinkers to contribute to the companion album Drop Gloss, which will be out on April 17 via Warp.
The Field, Gang Gang Dance, Kode9 and Shabazz Palaces were all handpicked by the band to contribute remixes to Drop; we've got the entire tracklist below. Drop will be available in the standard formats and also in a series of four 12-inch vinyl singles, each featuring unique artwork from Battles' Dave Konopoka, who designed the brain-cotton candy thingie on the cover of Gloss.
If you curious to how this came out, you can check out Kode9's remix of "Africastle" here. If you're curious as to how these people sound on their own, Battles has generously put together a YouTube playlist of the artists they selected that you can check out here.
Drop Gloss Tracklisting
1. "Wall Street" (Gui Boratto Remix)
2. "Sweetie & Shag" (The Field Remix)
3. "Futura" (The Alchemist Remix)
4. "White Electric" (Shabazz Palaces Remix)
5. "Africastle" (Kode9 Remix)
6. "Inchworm" (Silent Servant Remix - Edit)
7. "Toddler" (Kangding Ray Remix - Edit)
8. "Dominican Fade" (Qluster Remix)
9. "Ice Cream" (BDG #Gang Gang Dance Remix)
10. "Rolls Bayce" (Hudson Mohawke Remix)
11. "My Machines" (Patrick Mahoney & Dennis McNany Remix)
12. "Sundome" (EYE Remix)