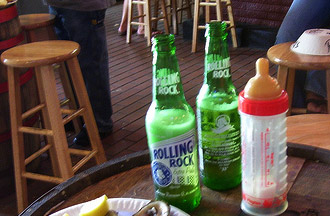 File this under the louche infantilization of New York, right up there with Babeland opening its "child-friendly" sex shop in Park Slope: A Nolita bar opening today will serve drinks in baby bottles. To adults, in case that wasn't clear.
Listen, we get it. Opening a bar in New York City is hard any day of the week. Opening a bar when people are throwing the D word around (that's "depression," which scores much higher than "recession" on the grimness scale) must be especially difficult. Herculean. Probably doomed from the outset. But baby bottles? Really?
Wine and beer will be sucked down via rubber nipple at La Cave des Fondus -- which opens today at an underground spot at Prince and Elizabeth Streets -- and lest you think this is the cheesiest gimmick you've heard of in a while, allow us to wipe that sneer off your face: The bar is a blatant copy of riff on an establishment known for that very thing in Montmartre, which is in Paris, where nothing is ever cheesy, on account of Parisians being stylish everywhere all the time while you sit at home in your sweatpants.
The new joint's owner, Jacques Ouari, tells Diner's Journal that "everybody loves drinking beer and wine from baby bottles," and "as long as we put the bottles in the dishwasher," the Department of Health thinks it's a grand idea, too.
Copyright FREEL - NBC Local Media