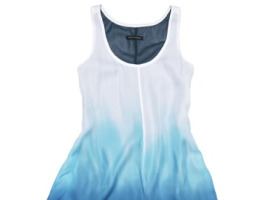 While some major brands are focusing on lower-priced companion labels and outlets, Banana Republic is taking a different tack in launching a capsule collection called "Luxe Leisure," geared toward those who need resort wear year-round.
According to WWD, the collection -- name to the contrary -- won't be priced any differently than Banana Republic's main line, but the components involved to suggest a certain lifestyle. Essentially, Luxe Leisure includes about 40 pieces of beachy, vacation wear -- from colorful dresses to skimpy bikinis -- to be sold in BR's stores year-round. Why? Well, as creative director Simon Kneen insists, "We're trying to capture the needs of the consumer ... They're going away for weekends, and with the snowbirds going to Florida, there's always a need for [resort wear] in the middle of the season."
Now, we're all for optimistic dressing -- and frankly, it's always refreshing to see springtime dresses in stores, since it really does get exhausting to see all those sweaters and coats month-after-month in the winter -- but maybe we missed the memo about everyone needing slick new duds to wear to Miami all of a sudden. We don't exactly have a slew of "escape" destinations we're heading to every weekend, but maybe Banana Republic's betting on a different kind of consumer.