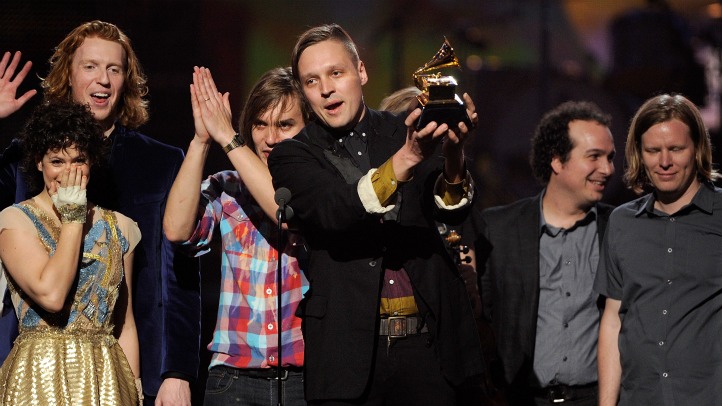 Since last year's August release of The Suburbs (Merge), Arcade Fire has been on a tear. This isn't some sort of indie rock pat-on-the-back. We are talking about a band that is absolutely taking over.
They celebrated their chart-topping record with two massive shows at Madison Square Garden before heading to Chicago to headline Lollapalooza. As if that wasn't enough, The Suburbs was awarded the prestigious Album of the Year at the 2011 Grammys. Just last weekend Arcade Fire was Saturday night's headline act at this year's Coachella Festival in Indio, CA.
While much has been made of the Creators Project LED ball drop during Arcade Fire's final song of their Coachella performance, we are not here to waste more ink on that story. This is meant to be an enthusiastic announcement for the release of deluxe edition of The Suburbs that is due for release on June 27.
As the band told BBC Radio 1 DJ Zane Lowe on his radio show, the deluxe edition will feature two new tracks titled "Speaking in Tongues" and "Culture War". The disc will be accompanied by a DVD containing the Spike Jonze directed 29-30 minute short-film Scenes From the Suburbs that has a decidedly awesome, updated Red Dawn feel to it. Check out the trailer below:
This is not to be mistaken with the Beastie Boys' short film that is now running on cable, but it looks equally intriguing. I just hope the film doesn't cause me to run around my apartment yelling "Wolverines!"