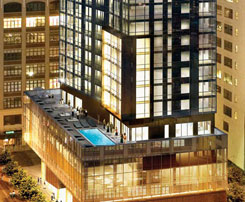 There have been many real estate-related mysteries over the years, but lately the most well-guarded secret in town has to be the real, honest-to-God sales figures at Trump Soho. Over the years a parade of developers and brokers involved in the 48-story condo-hotel (where buyers can only occupy units for limited periods of time each year) have routinely spouted figures in the 55% to 60% sold range. It never changes, and neither do the prices, which reportedly still hover around an average of $3,000-per-square-foot, slightly above (like, double) its Hudson Square brethren. Today we tip our hat to Post reporter Katherine Dykstra, the latest person to try to get some answers regarding the building's sales. She uncovered some new info! Check out this exchange with one of the (non-Trump) developers:
How many total?

"We're sold at 55 percent of phase one," he says.

How many units are in phase one?
That he won't say.

After repeated inquiries, a building spokesperson reveals that phase one includes "more than 50 percent" of the building's 391 units, which at the very least equals 196 units. Given that 55 percent of 196 units is 108 units, this would mean that, at minimum, about 28 percent of the building is sold.
Given the death of the condo-hotel trend, we're not sure why Trump & Co. don't just admit defeat and drop this condo nonsense and market solely as a hotel. Based on Dykstra's summary of the various public spaces—an "exclusive" lounge that opens onto the street, an indoor/outdoor pool deck bar ("Think DJs and swimsuits"), etc.—it sounds like the neighborhood is getting its own happenin' Standard-like party village. Which the Trump Soho haters must really be thrilled about.

Copyright CURBD