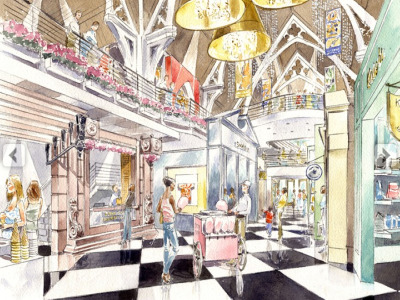 Looks like Limelight will follow in the footsteps of its 1980s contemporary, CBGB, by turning it into a retail outlet. If it happens, New Yorkers should brace for widespread ranting about the city's gentrification.
Construction is underway on the two-story marketplace of 70 shops in the Gothic-style former Episcopal church, bringing a bright and sunny facade to what once owned the nightlife of the 80s. President Jack Menashe has ambitious plans for an innovative retail venture, anticipating $50 million in sales during the first year following the $10 million renovation.
Tenants are beginning to sign on, including future first-floor residents Caswell Massey; Sabon; BR Cohn, wine and olive oil; Hunter Boots; It's Sugar; J. Sisters Brazilian bikini waxing; Little Miss Matched; Tantra; Mari's Brownies; Cupcake Stop; 92nd Street Eyewear, and Carter & Cavero, olive oil from Spain. The second floor will house the sneaker gallery, Maison 24 home decor, and jewelry.
Great! We've been waiting for one-stop-shopping center for glasses, sneakers, dinner and a wax.