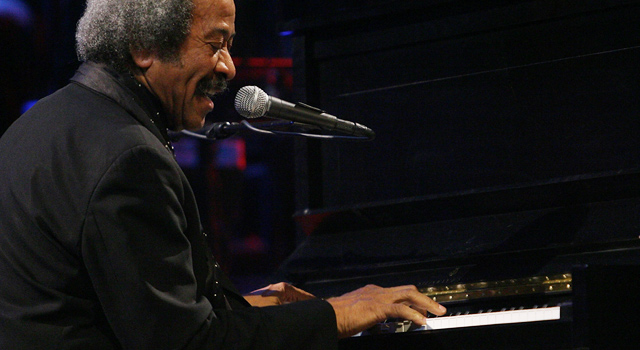 We've written about our love of City Winery before, but today it's extended to an even more hyperbolic level. It's not often that you get to experience a literal living legend in such an intimate venue.
Few people can claim to be the power behind New Orleans' musical throne in the same way that Allen Toussaint can. Toussaint grew up in New Orleans playing piano in and around the city's many bars and clubs, and got his frist taste of (relative) fame in the 1960s, writing and producing for some of the Crescent City's biggest names, including Irma Thomas and Lee Dorsey.
Into the '70s, Toussaint embraced an edgier form of New Orleans music, roughing up his more pop-oriented sound with a funkier, grittier series of artists, like The Meters, Dr. John, and the Wild Tchoupitoulas Mardi Gras Indians tribe. He had his hand in rock music as well, arranging horns for The Band's album Cahoots, as well as their live albums Rock of Ages and The Last Waltz. Recently, Toussaint has recorded with Elvis Costello for the latter's New Orleans-tinged album, The River in Reverse.
Supporting Toussaint tomorrow night is Seth Walker, whose blend of Delta blues and New Orleans-style R&B is as infectious as it is uncanny. For a skinny white dude, he sure sounds... not like a skinny white dude. Walker's a deft hand with a slide guitar, and his swampy boogie is the perfect warm-up for Toussaint's old-timey sounds.
City Winery is located at 155 Varick Street. Tickets for tomorrow's show range from $40 to $55, and the show starts at 8 p.m.