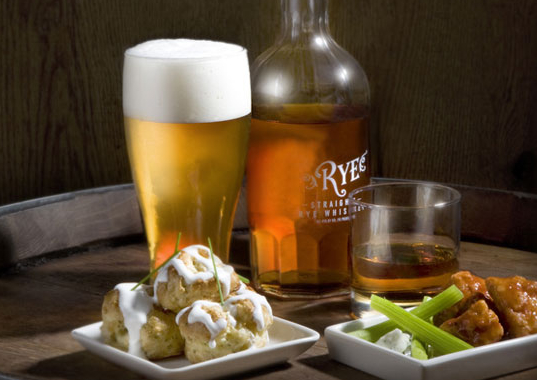 Freemans makes the French 75 about as well as it can be made. Hendricks gin, a splash of champagne and a perfectly swirled peel of lemon that the bartender carefully scrapes from the surface of the fruit, spritzing juice from each of the lemony little pours.

Two of the mixologists from Freemans, Lynnette Marrerro and Jim Kearns (also of Pegu Club) are moving across town and to work their magic with much darker spirits at Rye House on 17th street between 5th and 6th.

At the soft opening, Marrerro told The Dizzy Fizz (which has the rye-dominated cocktail list), "We wanted to use small-batch American spirits. The drinks are American twists on classics. Some, like the Creole Daiquiri [New Orleans 3 year rum, chorizo-infused Sombre Mezcal, lime, pomegranate molasses, cane syrup], show the best of American fusion. We wanted to have a seasonal julep since it is the quintessential American whisky drink."

The menu too is American with a twist: buffalo sweetbreads (in lieu of wings), po' boys, barbeque ribs, corn dogs, beef wellington sandwiches, and baby chicken served with buttermilk spoonbread. But with small plates and big drinks, the focus is clear.
Copyright FREEL - NBC Local Media