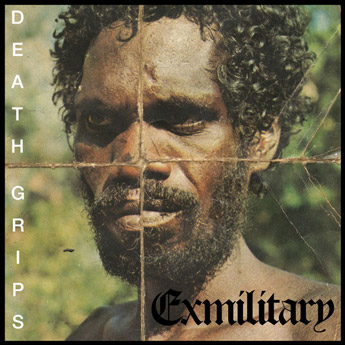 Let's just begin with the stark reality the debut album from Death Grips presents us.
Exmilitary merges the most ambitious traits of the year's best rap albums while avoiding the same pitfalls: it achieves the cogent political stance of "Watch the Throne" without the Luxury Rap paradox. It draws the same grotesque fascination with violence and sexuality paraded by Odd Future, but dodges immature over-the-top flourish by a humbling of disposition alone.
The album shares not only the fierce individualism of "Black Up" but also Shabazz Palace's penchant for experimental production. It embraces the visceral honesty of Danny Brown's best without the pure debauchery. It sounds unlike anything you've ever heard.
With a list of backing credits that have emerged from social media at a secretive snail's pace, we now know that Death Grips is MC Ride, producer Flatlander, renowned beatsmith Zach Hill and vocalist Mexican Girl.
It's an impressive and disparate group, known as much for obscurity as inexhaustible creative energy. I'm mostly talking about Hill here, one of the only modern drummers recognizable by sound alone; and how impressive is it that Hill's working on a project where he's the least apparent member? Sure, his rhythmic genius is indelible. But masked in the dense oeuvre of Flatlander – calculating as he is with everything from retro blasts to psychedelic synths – Hill just isn't so important.
MC Ride takes the lion's share of the spotlight. The tattooed, taut, terrifyingly serious Ride takes obsessions of the genre to the absolute limit.
The result inverts the typical rap narrative into a critique of consumerism, violence and self-obsession that is both frightening and inspiring – the vehemence in these tracks is unshakable, creating an outré manifesto that one wants to simultaneously hold at a distance and make one's own.
Many reviewers have latched onto the perceived anger here, but it's not as if Ride doesn't make a case for his anger in his rhymes, or that there isn't a gradient of ire – Ride is able to make the difference between yelling, shouting, and screaming very apparent, with a specific emotional bent for each, and it's all over the album.
Lead track "Beware" opens with a chilling sample of Charles Manson that ends with "I make the money man. I roll the nickels. The game is mine. I deal the cards." Considering the source, the promise of delusion is palpable. But something about the context makes one ashamedly think: "He has a point here."
Second track "Guillotine" sets the dark imagery of the album with deft minimalism and pure ire, a caustic synth exploding in arpeggio near the end. "Spread Eagle Cross the Block" signs the album's opening struggle in blood. Over some bluesy bass and guitar riffs, Ride explodes: "What is it? Where is it? How will it affect me? [expletive] that [expletive], I need that [expletive]'s bound to be the death of me, [expletive] buying it I'm taking it, and sharing it with nobody."
On first glance, it's a boast rap concerning substance. But telescoping out, it's an affecting critique on global consumer culture.
"Lord of the Game (ft. Mexican Girl)" draws from grime in the vocal and employs the best use of rudimentary/marching percussion since the 2007 Phosphorescent beauty, "At Death, A Proclamation" (sorry, Travis Barker). It's one of the few spots Hill's chops stand out.
"Takyon (Death Yon)" uses similar drumline motifs in its fills, as does "Klink," solidifying a sonic theme of raw beats and energy.
To be certain – this is an intense, dark listen. But it's somehow catchy in its darkness. It's also one of the most meaningful releases of the year – unique, creative, passionate, and most of all raw.
Given the band has released the entire thing for free, including a slate of videos for nearly every track, there's really no excuse not to view it. A reaction is assured, here. Your blood will boil, your body will move, your stomach will sink. Exmilitary will change you, head and heart.