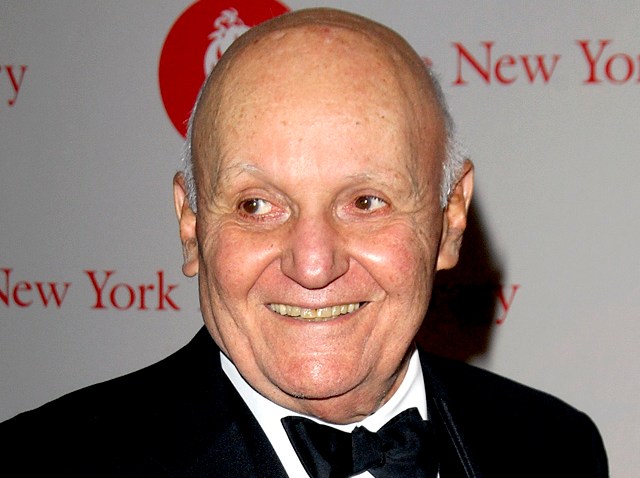 With his new book, "The Rise and Fall of Bear Stearns," magician, bridge enthusiast, Viagara prescription underwriter, and, yes, former Bear Stearns CEO Alan "Ace" Greenberg hit the 92nd St. Y last night to set the record straight.
Following the firm's implosion, the straight-talking Oklahoma native has endured a series of personal attacks, not least of all from former friend, coworker and bridge partner Jimmy Cayne, who claimed -- among other salacious accusations -- that Greenberg once tossed executives' bonuses on the floor of his office, forcing them to grovel for the loot.
He dismissed such disparaging remarks as "ridiculous," then said they partially motivated him to write the book.
"I felt I wanted to get my side of the story in print," Greenberg said from the stage. "I have children and grandchildren."
But the 82-year old was also there to humorously reflect on his career at the investment bank, which spanned nearly 60 years.
When asked what those famous uptown-downtown morning car rides with his predecessor Cy Lewis and firm partner Teddy Low during Bear Stearns high-flying heyday were like, he replied with a gruff laugh: "Cy and Teddy talked all this nonsense. They picked me up at 66th St. and by 42nd St. I was ready to take the subway."
Of course the question on everyone's mind was the credit crises of 2008 that knocked out Bear Stearns, and, more importantly, the economy.
"No investment bank can survive a run," he said matter-of-factly. "When all the people want all their money in a short amount of time, you can't handle it. The investment bank that all of you are familiar with is gone for good."
He then reassured everyone that money can still be made in these trying times.
Somewhere Mr. Burns cackled, "Excellent."