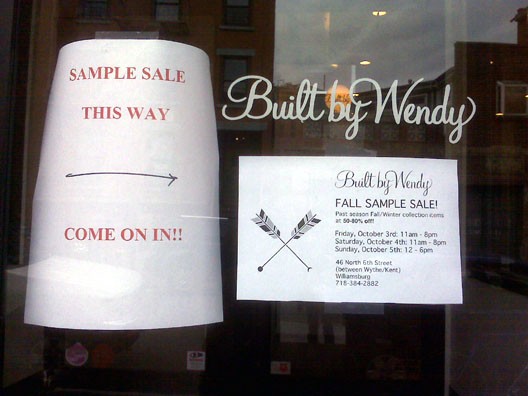 The best thing about the Built By Wendy sample sale currently taking place on N.6th Street in Williamsburg is how easily you can justify shopping there. It's fall! You need this stuff! Yes, there is a rack of virginal summer whites (some dresses, mostly shirts, all around $50 to $80) that will look completely out of place for the next nine months. But the vast majority of clothing on sale is perfectly seasonal and priced less like Built By Wendy and more like a Built By Wendy knock-off from Urban Outfitters.
For example: The jewel-toned satin mini-dresses, marked down from $259 to $50, would work with black tights throughout autumn and into the holiday season. (Wendy has been on an Alpine kick for years, so it all looks sort of Christmas-y anyway.) Equally cute satin tops were $137 and are now $30. Coats are plentiful, although some of the boiled-wool numbers look a little scratchy. We lost our heart to a little tweed jacket ($70!) but not before flirting with a longer, more winter-appropriate coat for $125, down from $326. On a central table, chunky sweaters, some with little heart-shaped buttons and some with Fair-Isle patterns, cost $80, $50, $25, down from $270, $153, and $160, respectively.
Three important things to note, if you're planning to stop by: The sale does have some shoes ($46) and bags ($50) tucked under the racks, but nothing too exciting, so don't go looking for accessories. The small men's section, out in the hall, is decidedly underwhelming. And the women's stuff, lovable as it is, seems to be disappearing fast. We'd suggest hitting it up tomorrow morning, since everything might be gone by Sunday.For more stories from Racked, go to racked.com.
Copyright RACKN