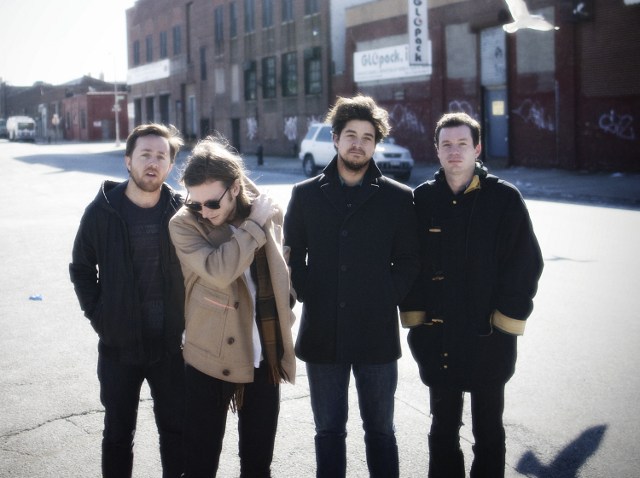 Thanks to that shifty lot of English folks known as Pilgrims, it's a short work week for most of us which means by New York standards the weekend technically starts on Tuesday instead of Thursday. This is great news for desk jockeys and administrative assistants whose bosses will check out sometime Tuesday evening leaving employees to nurse hangovers in their cubicles with minimal interruption.
So that leaves us with the question of where to induce our Thanksgiving Eve's Eve hangover? The Long Beach, CA based gentlemen of Delta Spirit think you should spend the night raising your glasses with them at their Webster Hall performance on Tuesday, November 23. We agree and can't wait to sing-a-long to their soulful Americana.
We caught up with Matt Vasquez -- the lead singer and guitarist of Delta Spirit -- for a quick interview about his band and some of his favorite NYC moments:
What is the one person, place or thing you would hate to miss on a trip to NYC? Brooklyn's Pies and Thighs and my friends - "You too Gordan!"
Delta Spirit has played a number of NYC venues. What was your most memorable experience?
The first time we headlined the Bowery Ballroom it sold out. That show in my mind is easily in the top three.

It's 4:00am and last call has come and gone, what's next? Any speakeasies, late night eats or after party spots you love? It's always different; I usually just hold on to somebody's arm and end up in the craziest places. I prefer a friend's roof deck to any bar though.
If you called NYC home, what would be your local watering hole? Why? 9th Ward is my watering hole. I love drinking with the owner Nick (Ratner). He'll tell you drinking with him is like going on a little bike ride with Lance Armstrong.
The courting process is on and a major player is taking the band to dinner on the AMEX Black card; where are you eating? What menu item is not to be missed? I hate ordering food. Menus just stress me out, but if some suit is buying me dinner I'll get a steak "rare" and an 18-year Macallan "neat."
Good or bad, have you ever had what you would describe as a quintessential New York moment? The first time we got to New York our van got creamed by a big truck within the first hour of us getting into the city. He didn't leave a note. I also saw My Morning Jacket at The Garden a few years back for new years. After the show we went to the Mercury Lounge and saw Mr. Brownstone which is my friend's Guns N' Roses tribute band. It was some night!
Being one-fourth of MG&V, you're no stranger to super groups. Who is your favorite super group? Delta Spirit
Thinking outside the box, what is the one merchandise item you'd like to create for Delta Spirit that rest of the world hasn't thought of? Life Insurance sounds like a profitable idea.
Finish this sentence: New York City is the sweetest place on earth because… Mast Brothers Chocolate is there.
See Matt and the rest of Delta Spirit tomorrow at Webster Hall with Darker My Love and The Fling. Tickets are available now via Ticketmaster.