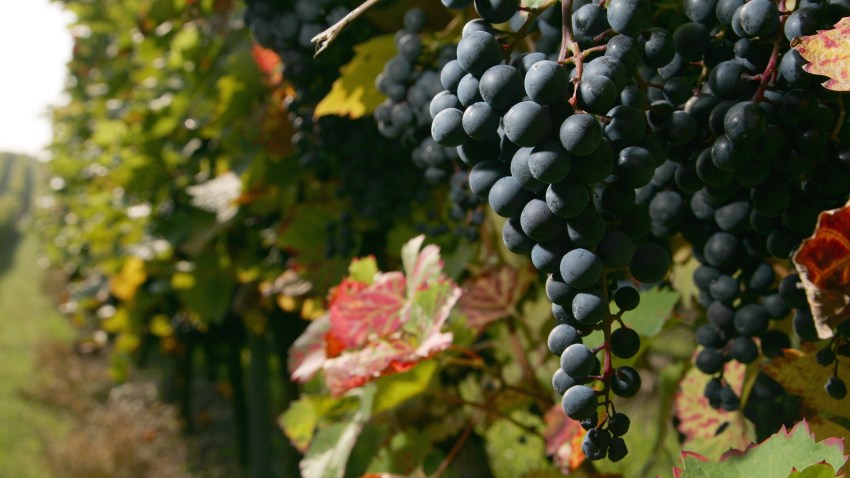 Last summer, Almond, a homey and well-loved restaurant in Bridgehampton ambitiously opened a second location in the giant, haunted Flatiron space that previously housed both Rocco Dispirito and Jeffery Chodrow and Zak Pelaccio's Borough Food and Drink.
On Monday, Almond NYC will pay homage to its Eastern Long Island roots by joining forces with Bridgehampton's Channing Daughters Winery for a special wine pairing.
The five course meal covers the same gamut that Almond usually does between French and Italian-style dishes with a strong focus on seasonal ingredients and Channing Daughters, the South Fork winery recognizable for miles around by its large tree-like sculptures carved by founder Walter Channing, will be well-represented by its oft-praised whites as well as some inventive reds. While doing things blindfolded -- including tasting wine -- can be fun, for those of you looking to impress your date, here's a little rundown of what to expect.
The 2008 Sylvanus will ease you into the evening (served with assorted hors d'oeuvres) with its citrusy notes and a satisfying finish. Named after the vineyard where all the grapes (a blend of Muscat, Pinot Grigio and Pinot Bianco) that go into the wine were grown, the Sylvanus is called a "field blend" or more romantically, a vin de terroir, based on the belief that grapes that that have been grown, harvested and fermented together create a wine that captures the distinct flavor -- even spirit, if you will -- of that particular soil. While there is no scientific basis for terroir, most wine drinkers choose to believe in it, because, well, why not? People have been known to believe in stranger things, like Jesus, after all.
Brussels sprouts "raw and cooked in the style of Caesar salad" (whatever that might mean) is complimented by the 2008 Sauvignon Blanc, made primarily with grapes from the MUDD vineyard on the North Fork. One thing that makes this Sauvignon unique is that 44 percent of it was fermented using wild yeast, or in other words, only yeast that was brought in with the grapes from the vineyard. As opposed to adding yeast strands, indigenous fermentation is a slower and riskier process (the grapes could succumb to bacteria and mold) that winemaker James Christopher Tracey began experimenting with when he joined Channing in 2001.
Your third glass will be filled with red, because yes, meat is on the way and it is winter after all. But drinking the Blaufränkisch this side of the vernal equinox is not the only reason this varietal is considered to be a winter grape. Grown mainly in Austria, it has become increasingly popular in cooler regions of the U.S. (like New York) because, well, it doesn't die so easy. Channing Daughters blends theirs with 25 percent Merlot and Almond is serving it with a lovely little Vermont quail and polenta ravioli with pomegranates, pistachios and ricotta salata.
When putting creatures from both land and sea on the same plate, it's only appropriate to offer two different wines as well. Thus, the Surf & Turf -- sea scallop and short ribs with foie gras fondue -- is paired with Channing's 2007 Clones, a wine made from 10 different variations or "clones" of Chardonnay as well as five other varietals including Tocai Friulano and Gewurztraminer, and the 2006 MUDD blend of Merlot and Cabernet Sauvignon.
Who gives a shit about dessert when you can have another drink? Well, the beauty of wine pairings is that you can have both. For this, dulce de leche ice cream will be melting over chestnut cake, but the real treat is the 2004 Pazzo (means "crazy" in Italian). This, the first, and so far only, of Channing's dessert wines was made in the style of Madeira, which is to say put in barrels outside and largely ignored.
Remember the heat wave of August 2007? Oh yes, so does the Pazzo. It's no wonder Channing posits Tracey was crazy to try such a thing.
But the word is the experiment paid off.
Call 212.228.7557 for reservations.
Copyright FREEL - NBC Local Media