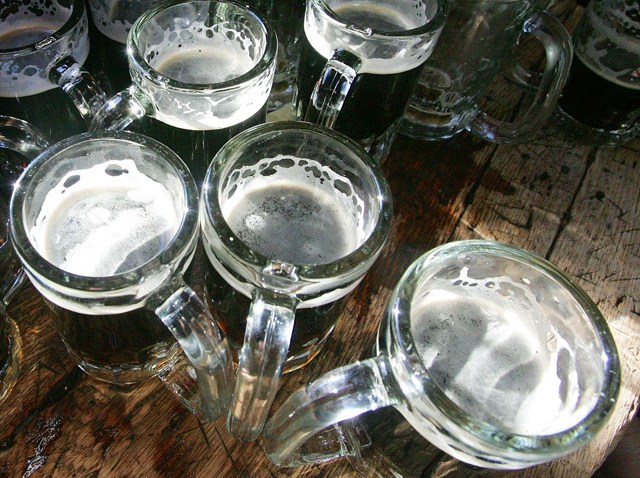 HOPPED UP: The 7th Annual Great Beer Fest = 3 days of suds, as nearly 50 breweries from all over (from the local Shmaltz Brewing Company to the decidedly un-local Sagres Cervezia de Portugal) all gather under one roof (the Park Avenue Armory) to pour you their wares, plus food pairings and live music. All weekend, see full schedule here.
SLIGHTLY MAD: We love the eerily whimsical world depicted in the stop-motion oeuvre of the Brothers Quay – kind of like if Tim Burton got weirder and more morose. Through October 24, see an exhibit of miniature décors from their films at Parsons. All weekend, more information here.
REMINDER: Dozens and dozens of psychobilly, burlesque and sideshow acts from the world over are shaking up the beach this weekend in the 2009 Coney Island Rockabilly Festival. When you're not taking in the retro sounds of bands like the Memphis Morticians, you'll gawk at sideshow acts like Jelly the Clown, who does that thing with the staple-gun from "The Wrestler" (seriously). Through Monday September 7, at Cha Cha's at the Boardwalk and the outdoor stage, see full schedule.
GO DUTCH: Kicking off on Saturday and running through September 20, 50 restaurants (including Delmonico's, Elizabeth, and Il Buco) will offer $24 meals as part of the Taste of NiEuW Amsterdam food fest (because $24 converts to about 60 Dutch guilders, a.k.a. Manhattan's initial purchasing price). Head here for participating restaurants.
SAUDADE: Sunday night, celebrate Brazilian Independence Day at SushiSamba, with Arte Capoeira performers: Samba dancers live drums, street food aperitivos, festive drink specials, and a Brazilian-inspired omakase menu will make you feel very south-of-the-Equator. Sunday, 6PM on, more information here.
Got a tip? Email us.
Copyright FREEL - NBC Local Media