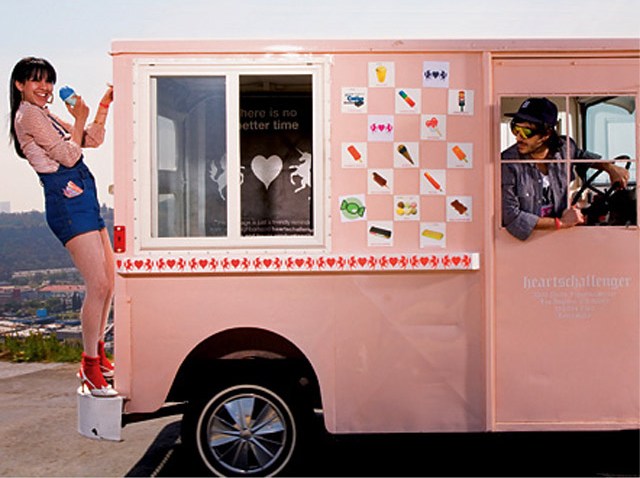 DOUBLE SEATING: We can't decide which seems more awesome—Saturday's Snout 'n Stout event (North Carolina-style pig roast party with free beer in Williamsburg; 6-10PM) or Sunday's Parked: Food Truck Festival (icons of the NYC eat fleet—Red Hook Lobster Pound, Rickshaw Dumplings, Van Leeuwen, etc.--circle the wagons on Governor's Island to dazzle your palate; 12-5PM), both brought to you by the hungry folks at MeanRED Productions, creators of the late, excellent BKLYN Yard. Why not hit both?
MASH NOTE: Remember Hot Lips Houlihan from that '70s film, M*A*S*H? Yep, so do we. Did you know she's a blues singer now? Sally Kellerman: Hot Lips to Cool Blues comes to Chelsea's Metropolitan Room as the actress plies her husky pipes for your pleasure with tunes from her album, Sally. Sunday, 7PM.
CARNIVALE: Sixth Avenue between 43rd and 57th Streets becomes a Rio-style fête as Brazilian Day 2010 takes over. Soak up sounds of samba and more, sample Brazilian eats galore, and generally go yellow and green for the day with 400 vendors lining the avenue. Sunday, 11AM-7PM.
FUNHOUSE: How to describe Stranded III: Forbidden City? The annual event is kind of like Burning Man, except instead of being in the desert, it's in an almost 50,000-square-foot warehouse. Dozens of artists/performers/what have you are creating an indoor "city" out of themed experiences—storefronts, if you will. A sake bar from the future, a pervy Victorian circus…you name it, it's happening. Extravaganza experts Winkel and Balktick are behind this one (you may remember them as two of the guys the Times recently heralded as bigwigs in the new Brooklyn party scene), and their last event drew some 2000+ revelers. RSVP for tickets and location at wandbnyc.com Saturday, 10PM-4AM. .
THREE DAYS. ONE WHEEL. Oh, and why are there hundreds of people on unicycles crossing the Brooklyn Bridge today? They're kicking off the NYC Unicycle Festival. See full schedule.