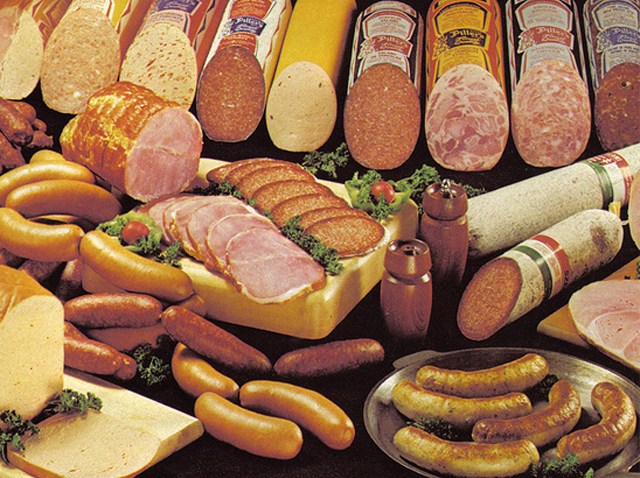 PORKTOBERFEST: Attention, singletons – or anyone whose Wednesday could be perked up by an all-male wet T-shirt contest: Brokelyn, F***ed in Park Slope and Brooklyn-Based have joined forces to get you some action via tonight's First Brooklyn Meatup. It'll be a veritable circus of matchmaking, people: Along with the aforementioned Ts, there'll be roving yentas, Jell-o shots, the La Cense Burger truck, prizes like a sausage-making class (haw!), a "makeout photo booth," and Best Week Ever's Sara Schaefer on hand to poke fun at everything. The Bell House, 7PM.
WO' PROBLEMS: Fans of the peculiar brand of weirdly subversive aw-shucks humor patented by "Prairie Home Companion"'s Garrison Keillor shouldn't miss the author reading – with his usual deadpan verve – from the new book "Pilgrims: A Wobegon Romance", in which his Lake Wobegon characters become fish out of water in Rome. Much like in the seminal 1982 TV movie "The Facts of Life Go to Paris." Lincoln Triangle Barnes & Noble, 7:30PM.
FLOODLIGHTS: Five Tony-winning leading ladies of the stage (Bebe Neuwirth, Sutton Foster, "In the Next Room"'s Laura Benanti, "Next to Normal"'s Alice Ripley and Beth Leavel from "Mamma Mia!") sit down to dish on life behind the scenes on the Great White Way today for Star Chats: Leading Ladies, a special Back to Broadway month/American Theatre Wing event and iTunes taping. These actresses aren't known to mince words – should be a good time. The TimesCenter, 242 West 41st Street, 5:30PM.
Got a tip? Email us.
Copyright FREEL - NBC Local Media