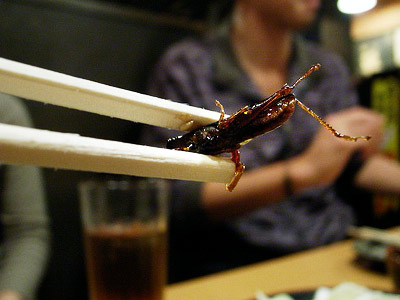 CRAWLSPACE: What does and doesn't count as food almost always falls along cultural lines, and the folks at Brooklyn Kitchen are counting on culturally adventurous types like yourself to turn out for its Entomo-Cuisine: Insect Tasting event, led by Philip Ross of SF's Critter Salon. Four courses of crawlers will be paired with suitable libations—turns out the perfect accompaniment for Wax Moth Larvae ceviche is Brooklyn Lager, while grasshoppers go well with San Honesto's mezcal. 6PM.
CLOWN POSSE: Inscrutable indie-popsters Of Montreal cruise into town just days after their tenth full-length studio album, False Priest, worms its way onto your player—it's got a heavy R&B influence and a couple of appearances by newfangled funk purveyor Janelle Monáe, who opens the show. Terminal 5, Friday and Saturday, 8PM.
SMORGASBORD: You have just a few weekends left to experience the delicious sensory overload that is Greater New York, the third iteration of MoMA PS1's curated cluster of recent work by NYC-based artists (in this case, 68 artists were tapped to participate). Check out Nico Muhly's composition for the show, experienced as a sound installation in MoMA PS1's elevator. (Closes October 18.) Long Island City, Queens. Saturday and Sunday, 12-6PM.