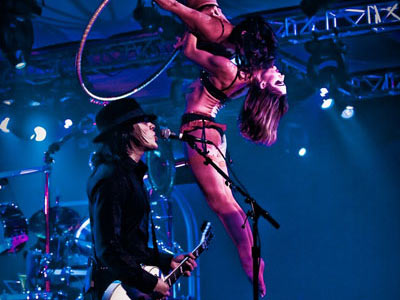 LUCID: You may ask yourself, "Why would I want to pay money to see Queensryche at the Nokia?" Easy: Because Geoff Tate and crew have set their greatest hits and some new songs to a sort of loose storyline whose plot is entirely secondary to the visuals: The expressly adults-only show (!) wants to sweep you into a sort of circus-noir netherworld where acrobats, burlesque performers, contortionists and their ilk will bring the band's music to life. Queensryche Cabaret is at 8:30PM.
SILENT TREATMENT: We've always thought the same thing about Shakespeare's Hamlet, whether in the hands of Sir Laurence Olivier or Mel Gibson: Not that funny. But L.A.'s Jonas Oppenheim and the Sacred Fools Theater Company removed the words, added a live piano score and plenty of slapstick, plus vaudeville, puppetry, and a shark. Hamlet Shut Up, now playing FringeNYC, reminds you why live theater is worth it. First Floor Theatre @ LA MAMA, 8:15PM.
MAGIC: Greek mythology, roller disco, and a late-career Gene Kelly looking as out of place as Snooki at MoMA: Xanadu is an epic smorgasbord of 1970s fantasy kitsch, led by a breathy Olivia Newton-John perpetually bathed in lavender light. Needless to say, it practically demands a sing-along (for "Suddenly" alone), and 92Y Tribeca is happy to oblige. 10PM.
Got a tip? Email Elizabeth.