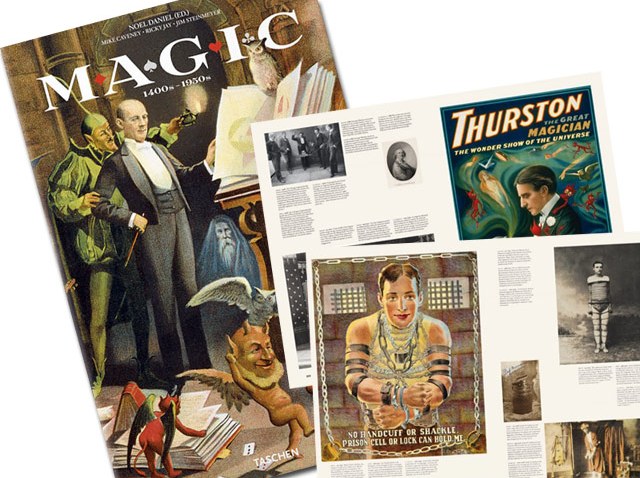 DARK ARTS: "Magic", from Taschen, is a mind-boggling book, and not because of its size (12" x 18"), weight (650 pages), or price ($200). This veritable bible of illusion celebrates more than 500 years of the world's greatest magicians, with more than 1,000 rarely seen vintage posters, photographs, and ephemera, tracing the history of illusion back to the 1400s. As if that's not enough, Ricky Jay is the contributing editor. This gobsmackingly beautiful book is a work of art. Available at Taschen, 107 Greene Street; 212-226-2212.
TESORO: Saturday is the last day to score savings of up to 80% off men's and women's apparel and accessories at the Armani warehouse sale – and these don't come around too often. Metropolitan Pavilion, 123 West 18th Street, 212-463-0200.
GLOW: We love the imperfect, hand-worked appeal of this glass square pendant lamp from Michele Varian with its nickel canopy. It almost gives the impression of looking at the light through a melting ice cube. $190, Michele Varian, 35 Crosby Street; 212-226-1076.
ICONIC: There's something resolutely Grace Kelly-chic about this cognac-colored leather crocodile-embossed Teddy purse, part of the Holiday 2009 collection from Kage. It's just about as timeless as something that holds your iPhone can get. $245. Kage on Irving, 72 ½ Irving Place, 212-228-8603.
BAG IT: Head to the Long Island City Housing Works Thrift Store for their special stuff-a-bag shopping event. Everything you can jam into a satchel – from their designer duds to antique curios, books and CDs – is $20. Saturday, opens at 10AM.
Got a tip? Email Elizabeth.
Copyright FREEL - NBC Local Media