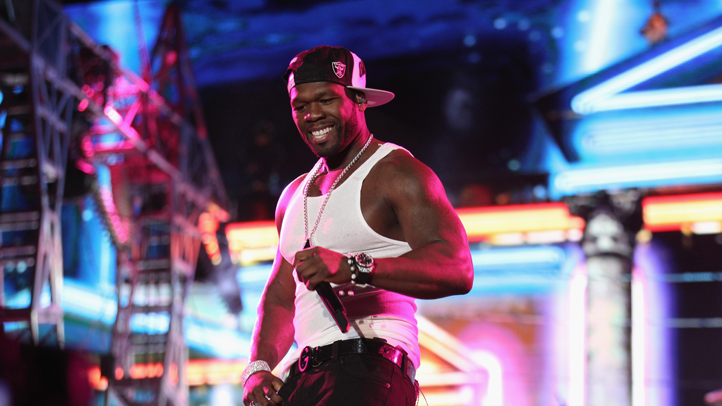 Last week, 50 Cent released his third mixtape of the past year. It's titled 5 (Murder by Numbers), and it contains two of the best songs he's made in years, and eight songs that remind us why the Queens rapper, though wildly successful, is looked to as largely a non-entity within the hip-hop landscape these days.
The tape is bookended by the two aforementioned stunners. The first is the reggae-inflected "My Crown," where 50 sounds recharged. "I'm still the s—t," he begins his verse, rapping in the lilting, closed-mouthed-and-closed-fist style that the 50 of yore rode to the top.
It's been an interesting decade for 50 Cent. In many ways his debut album Get Rich or Die Trying was the rap album for a generation, its Dr. Dre beats positioning 50 as the world's scariest hitmaker, while album tracks such as the bullet-drenched "Heat" and the morose anthem "Many Men" became hip-hop classics in their own right.

From there, 50 embraced his role as the hood's favorite pop-rapper, his album The Massacre presenting more or less a rehash of Get Rich. Though it's a fine album on its own, it displayed a crippling lack of originality for 50. He continued this slide, mining a shaft he'd long depleted, hoping to find one last diamond.
Still, the influence of Get Rich is undeniable. His narrative, that of the hard-nosed street hustler who paused his drug operation to build a rap empire, has become a template in the latter-day rap game. It's fitting, then, that Schoolboy Q, a Los Angeles rapper who shows an undeniable 50 Cent influence, steals the show on Murder by Numbers' final track "Can I Speak to You." In an interview with VIBE, Q spoke about how 50 Cent, "Probably saved my life." Q was in a similar position a few years ago, with one foot in the street and another in the studio, when he chose to devote himself to rapping full-time because of what he saw from 50. In something of a full-circle narrative, he and the rest of his Black Hippy crew are now signed to Dr. Dre's Aftermath label.
It's the songs wedged between the twin gems of "Can I Speak to You" and "My Crown" that are problematic. There's a song about smoking marijuana despite the fact that 50's an avowed non-drug user, a song about how completely and totally rich he is, and a couple lovemaking anthems that could have been left on the cutting room floor of the already-short tracklist. Still, for a mixtape that was released for free online, a .200 batting average might as well equal a home run.
Download 5 (Murder By Numbers) at ThisIs50.