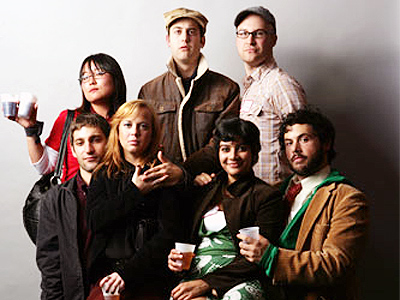 Come one, come all to the annual Grand Meeting of the Corduroy Appreciation Club, an association devoted to the praise and preservation of that fabric which makes an astonishing amount of noise when you walk. The Grand Meetings are held annually on 11/11 – a.k.a. the date which most resembles corduroy –and here's some further intel for you on tonight's event:
- A two-corduroy-item rule is in effect – no person shall be admitted who is not wearing two items of corduroy. Also, there will be awards given out for Exemplary Usage of Corduroy, so why not try a little harder?
- Speakers include Sloane Crosley, author of "I Was Told There'd Be Cake", who will hold forth on (what else?) corduroy, and Deborah Kaple, scholar of Princeton University (a bastion of corduroy if ever there was one), who will read NPR 3-minute Corduroy Fiction.
- The event promises "strange rituals" (stranger, somehow, than building an entire event around a fabric) and "a controversial announcement" (denim threatens to topple the wale supremacy? Lycra-mix corduroy is no longer banned? what could it possibly be?)
- You'll be treated to music by the Main Squeeze Accordion Orchestra, as well as the grand unveiling of the Corduroy Club iPhone application (yes, really).
- Suggested topic of conversation: 11/11/11, the date which most closely resembles corduroy, ever. According to the Club, "Nascent plans are in development for a Cordinated [sic] international spectacular. It will be the greatest day ever." Discuss.
Details
Corduroy Club Grand Meeting 2009
Wednesday, November 11, doors at 7PM
The Old American Can Factory, 232 Third Street, Gowanus, Brooklyn; 718-237-4335
$11.11 (the price which most resembles…etc.)
More information and tickets at corduroyclub.com
Got a tip? Email us.
Copyright FREEL - NBC Local Media