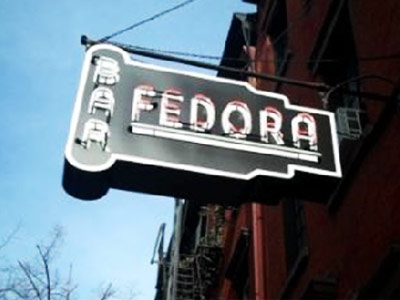 REINVENTION: If you've been mourning old-school West Village restaurant Fedora (which opened in 1952 and closed last summer), take heart: As of our latest intel (with video), it reopens tonight with restaurateur Gabe Stulman (Joseph Leonard, Jeffrey's Grocery) at the helm and chef/Au Pied de Cochon alum Mehdi Brunet-Benkritly in the kitchen. The clams casino may be off the menu, but at least they held onto the 1917 bar. 239 West 4 Street at Charles Street, 6PM.
TWOFER: The NYT Arts & Leisure Weekend celebrates its first decade, kicking off four days of events and talks with cultural luminaries. Tonight, spend time with Kevin Spacey (current projects: playing disgraced lobbyist Jack Abramoff in "Casino Jack," serving as creative director of London's Old Vic theater) and CBS Evening News anchor/managing editor Katie Couric (much funnier off-script, by the way). Spacey at 6PM, Couric at 8PM, at the TimesCenter.
RETURN: Expect a warm welcome as Cassandra Wilson—fresh off opening for Prince on his Welcome 2 America tour—takes over the Blue Note with a five-piece band for four days starting tonight, offering up nuggets spanning her impressive jazz career and highlights from her latest project, the spare, aptly-named Loverly. It's the first all-standards disc she's done since 1988. Tonight's early show is the album's official release party. 8PM, 10:30PM.