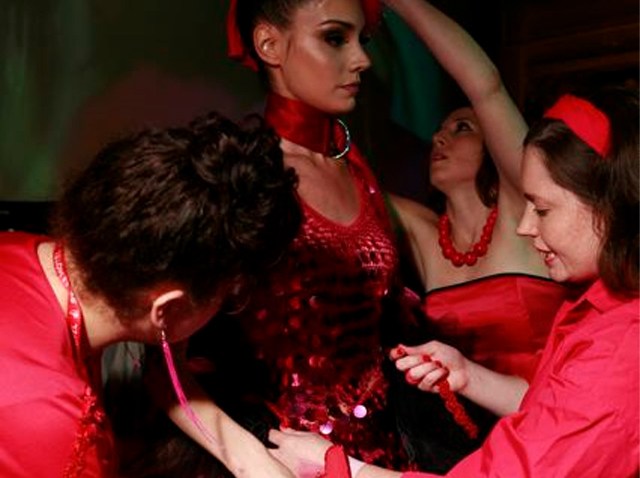 DESIGN OR DIE: Call it "Project Runway" on steroids: House of Diehl's "Style Wars" pits ambitious on-the-cusp designers against each other, live on stage, to create fashions from recycled clothing and household objects in just five minutes, as a panel of celebrity style judges like Jenny Shimizu and Elettra Rossellini looks on. It all goes down on Saturday at Don Hill's, 10PM-midnight.
BROTHER GRIM: Ex-LAPD cop-turned-independent reporter Michael Ruppert is not exactly a shiny, happy person; in fact, he has lots of data-supported opinions about where civilization is heading -- namely, to hell in a handbasket. Chris "American Movie" Smith's documentary "Collapse" trains the lens on Ruppert, Spalding Gray-style, as he outlines the darkest of scenarios. Paranoid nutjob, or clairvoyant sage? You be the judge. The film opens at the Angelika on Friday, and Smith is rumored to be on hand Friday and Saturday. Schedule varies.
SEND IN THE...: What do you get when you dump 3000 red clown noses on an unsuspecting populace in Union Square on a Saturday afternoon, and then make them pose for pictures with Lea Thompson and Christopher McDonald? A publicity stint for the new film "Splinterheads" (of which the nose thing is a subplot), and yet another reason to be glad you live in NYC. Saturday, 4:30PM.
HOW SWEDE IT IS: Dreamy, synthy, unabashedly-'80s pop is the Mary Onettes' stock in trade, and we only wish there was a new John Hughes movie around so we could soundtrack it with the songs from the band's just-out album "Islands". There isn't, so we'll have to settle for imagining the montage sequences set to their New Order-y sound, which will be fully on display at Mercury Lounge on Sunday, 10PM.
SMORGASBORD: Running all weekend is the third annual Cook. Eat. Drink. Live. food show, which has nothing to do with "Eat. Pray. Love." despite the eerily similar title. The huge event is something of a gourment-NYC free-for-all showcasing new food products, celebrity chefs (Bill Telepan!) and just plain celebrities (Ted Allen?), wineries, cocktails, cookbook authors, mixologists, and more. Once you've stuffed your face with tastings, get your holiday shopping done early. Through Sunday, The Tunnel/La.Venue. Schedule varies.
Got a tip? Email us.
Copyright FREEL - NBC Local Media