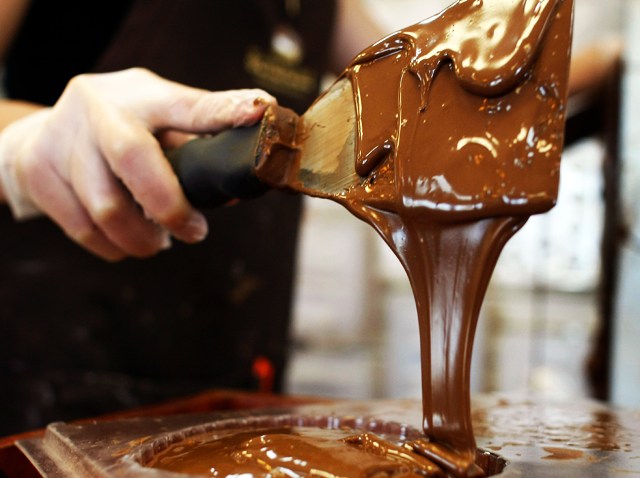 BEAN THERE: Tastebuds, meet Kallari chocolate, produced at the source in the Ecuadorian Amazon (where cacao originated), by the only cooperative of family farmers on the planet to reap all the profits from its organic chocolates. Learn about this sustainable practice and—most deliciously—get your high from a blind tasting of chocolates paired with wines and spirits selected by the host, Union Square Wines, at this Slow Food event. Slow U: Chocolate…Good, Clean, and Fair is at 6PM.

RIB IT: It's 11/11, "the date which most resembles corduroy," and you know what that means: Time for the 5th Annual 11/11 Grand Meeting of the Corduroy Appreciation Club, that ultraniche, wildly preppy and ultimately delightful and tender-hearted gathering of those in love with the cloth of kings. A short film about corduroy and the unveiling of a beer that resembles corduroy are just two of the surprises on tonight's bill--expect special guests, too. And just imagine how crazy they'll go on 11/11/11. At the General Society for Tradesmen and Mechanics Library (44th nr. 5th). 7:30PM.
TRACING FUNNY: National Lampoon may be the single most influential comedy publication in history: The magazine spawned radio and stage offshoots, which in turn were responsible for notable careers (such as that of writer-director John Hughes or Bill Murray), cultural icons (Animal House, Saturday Night Live), and opening the door to a new kind of humor. Hear about the history and influence as a host of contributors—including Lampoon editor Michael Reiss--discuss the magazine's cultural footprint at Drunk, Stoned, Brilliant, Dead: A Tribute to National Lampoon, 92 Street Y, 8:15PM.
Plus: See our music picks on the Nonstop Sound blog.