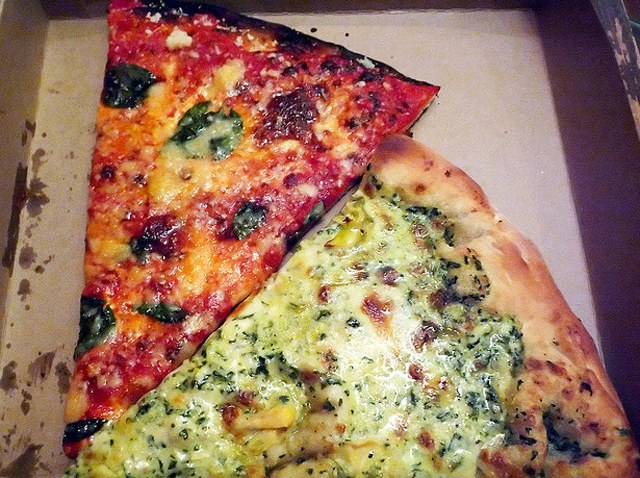 LIFE OF PIE: From their humble beginnings working at the family eatery on Staten Island, via their 14th Street cult-favorite-with-the-crazy-long-lines pizza joint, Artichoke Basille's, and yet another iteration (sit down this time) at Tenth Avenue and 17th Street, cousins Francis Garcia and Sal Basille are seemingly unstoppable. A new location by Minetta Tavern on MacDougal opens tonight, just in time for your Thanksgiving Eve cravings of big, sloppy, charred slices of their four signature pies – we'll take the Sicilian. 11AM-5AM, but call ahead just to make sure: 646-278-6100.
CRANKS A LOT: There's so much pressure at Thanksgiving and the rest of the holiday season to be, you know, thankful—to drop your Scroogey outlook and emit beams of grace and gratitude. At Littlefield, the variety showcase the Talent Show brings together a host of comedians – including John "PC" Hodgman, Mike Albo, and Mike Birbigilia – for Cranksgiving, one is here to give you one very funny night of ranting, raving and blowing off curmudgeonly steam before Turkey Day ushers in the monthlong happyfest. 8PM.
WHEELS: As half the country fuels up for the trip home, photographer Lee Friedlander's exhibit America by Car could hardly be more a propos. At the Whitney through November 28, the show is made up entirely of snaphots taken from inside a vehicle. Riding rental wheels, Friedlander hit nearly every one of the country's 50 states with his lens constantly at the ready, with results by turns haunting and funny, but always very human. It's a compelling meditation on that most American of institutions: the road trip. Until 6PM today, 9PM on Friday.
See our music picks on the Nonstop Sound blog.